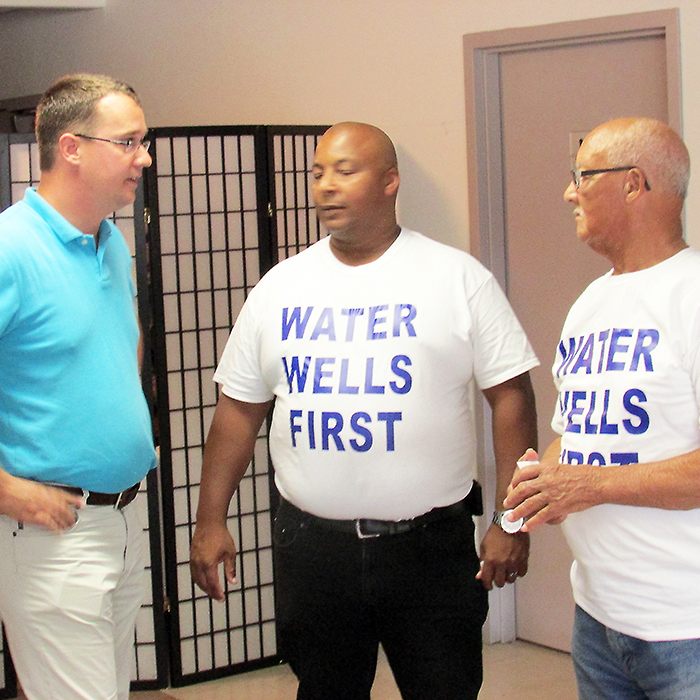 In the four years since Lambton-Kent-Middlesex MPP Monte McNaughton first raised the issue of ground water quality and wind turbines, hundreds of the tri-bladed structures have been erected in southwestern Ontario.
He's still waiting for action and now a member of Chatham-Kent Council is echoing his concerns.
Michael Bondy has issued a notice of motion requesting that council ask the province put a hold on the construction of any more wind turbines until questions of how the structures may affect groundwater are answered.
"I don't care if we're a willing host or not, the municipality owes it to rural property owners to ensure their interests are being looked after in this regard," Bondy said.
Water Wells First, a Dover Township group aided by the Ontario Ground Water Association, has filed a notice of appeal of the agreement between the North Kent Wind 1 project and the Ministry of Environment and Climate Change to build up to 50 wind turbines.
The group is concerned that as many as 20 wells may be contaminated with sediment due to vibrations caused by the installation and operation of the units which can be more than 400 feet high.
"We have projects in Dover and we have a project getting ready in Wallaceburg and I don't think anything should proceed until we get some answers from an independent source before we proceed," Bondy said.
Council will deal with the issue at its August meeting.
In a recent press conference on the property of Dover farmer Laurier Cartier, Water Wells First led by Kevin Jakubec, said until the ministry investigates the sediment problem with up to 20 wells in the Dover Twp. area they believe is caused by vibration from the wind turbines, they will continue to object to the project.
"We need to understand that all water problems in Dover haven't proven to be caused by the turbines but it's just too important to proceed until we know," Bondy said.
"The part of the Act (Renewal Energy Act) that says landowners with water problems will be given bottled water is just insanity."
McNaughton, who attended a public input meeting for the proposed Otter Creek Wind Farm project north of Wallaceburg, said the province continues to ignore the water quality issue.
A portion of a letter from McNaughton to then-energy minister Chris Bentley in August of 2012 reads in part: "Recent construction of wind turbines near Mitchell's Bay has evidently disrupted the aquifer and caused the otherwise "sweet" well water of my constituent to turn murky and non-potable… no amount of filtering has been able to clear this water supply. Apart from the obvious requirement of clean water for his household, my constituent also requires clean water in his business."
McNaughton followed up with a letter to current minister Glen Murray noting that the issue is increasing and urging that the proposals be given greater scrutiny under the Environmental Protection Act.
McNaughton said the water issue is of major concern but future instances would "disappear overnight" if the province stopped wind turbine development completely.
"We are in a situation where we are overproducing by 30 per cent the amount of energy we need," he said. ''We have the most expensive energy in North America and the premier continues on this destructive and wasteful path."
McNaughton said evidence that the provincial government is out of touch with its citizens is the "bottled water" provision for those whose groundwater is affected.
"Nothing demonstrates that a government and its bureaucrats are more out of touch than telling people they will provide bottled water to feed livestock or operate a farm. It's almost beyond belief."
Comments
comments