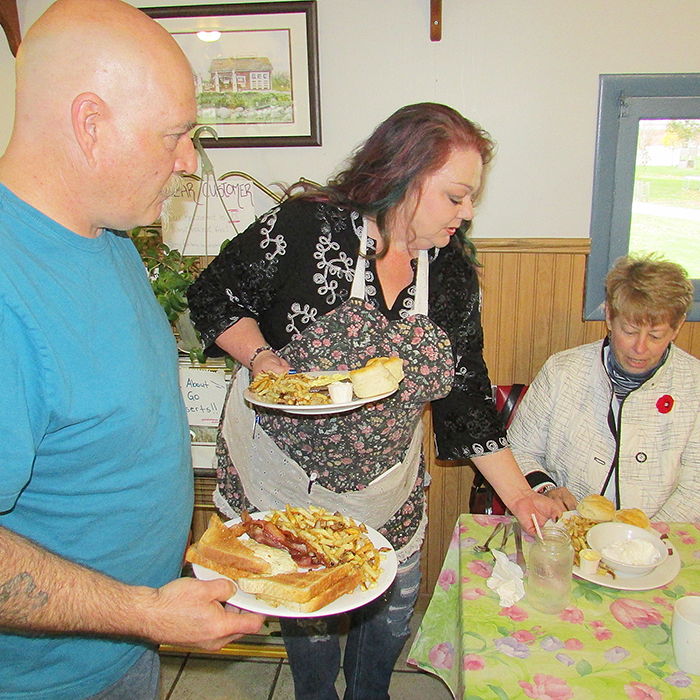 On a cold, blustery fall day, this little restaurant lives up to its name and growing reputation, offering comfort and soul to its customers.
It's just after 11 a.m., often the calm before the lunch storm for many restaurants, but Comfort & Soul in Cedar Springs is already busy. Owner Alecia Durocher organizes prepared meals for two ladies. The frozen, ready to heat and eat food is for a relative who is recovering from surgery.
Two tables of customers walk in out of the drizzle and stinging wind. Four of the visitors are up from Pelee Island to try Alecia's cooking.
It's not your typical local fare. Alecia's a southern kitchen belle, born and raised in Knoxville, Tenn., and a person who spent her young adult years in places such as Texas and Mexico.
From such dishes as chicken and dumplings, smoked meatball hoagies, ribs, fried quarter chickens, and a variety of soups and baked goods, Comfort & Soul is a flavour haven.
There's also a great deal more to Comfort & Soul than first meets the senses. As you walk up to the entrance at the Talbot Trail grill, you will likely catch a delicious wisp in the air of what's cooking in the smoker. You'll enter to a six-table, quaint restaurant, be greeted by a very friendly Alecia, and have difficulty choosing from the variety on the menu and the daily specials.
Chances are, you'll leave well fed with a smile on your lips and your taste buds.
But you might also leave knowing that the Durochers can help provide meals for an elderly or ill friend or relative, or just to someone who doesn't like or have time to cook.
Comfort & Soul goes out of its way to reach beyond its walls in terms of serving food to the public. They offer frozen meals – complete dinners with customizable selections, or entrees, soups, stews, side dishes and desserts.
And they deliver locally.
"What's in the freezer is really based on the restaurant needs," Alecia said. "Instead of throwing food away, we pack it up fresh and freeze it."
That leads to new menu options weekly, which can be viewed on their website, www.comfortandsoulrestaurant.com.
Some meals even come in large and small portion sizes, catering to the appetite of the customer.
Alecia said the meal plan is designed to be very adaptable, as users can fine-tune their own meals, by selecting the main dishes and the preferred sides.
"We also do family-sized dinners based on whatever they need," she added.
They also do special dietary dishes, from low sodium to diabetic.
"We customize to their needs and still have it taste good," she said.
Despite being in business for two and a half years, people are still surprised when they come upon Comfort & Soul.
"Nobody knows we're here. People say we're a hidden gem," she said.