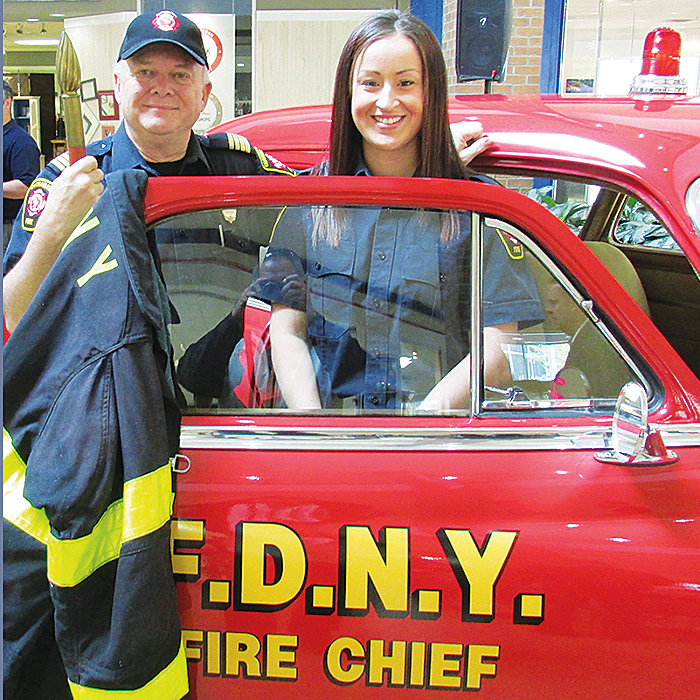 Chatham-Kent Fire Department members Rick Scharf and Ashley Scott were on hand for the media conference regarding this year's edition of FireFest. The fourth annual event will be held September 18 and 19 in downtown Chatham.
A multi-generational love for all things firefighting has turned into the largest display of antique fire trucks and emergency response vehicles in the country.
Entering its fourth year, FireFest Chatham-Kent, planned for September 18 and 19 in downtown Chatham was borne out of Brent DeNure's desire to get vintage fire trucks out of storage and on display.
"I got my love of fire trucks from my dad Reg," DeNure said at a media conference unveiling plans for this year's event. "As far back as I can remember I was fascinated by dad's collection."
One of the key vehicles in this year's event is a former New York City pumper truck which spent two weeks putting out hot spots at the World Trade Centre after the 9/11 terrorist attacks.
"The New York City fire department lost 96 vehicles in 9/11," DeNure said. "Every piece of equipment in reserve or elsewhere was put into service. Eventually this truck was retired, purchased by a Pennsylvania family and found its way here."
Last year's event featured 68 vehicles on display in the downtown area, a record DeNure is hoping to break this year.
In addition to showing the vehicles, the overall theme of FireFest is to promote fire safety.
"We try to focus on making this a family event and using it to educate adults and children on the importance of fire safety," DeNure said.
Marketing Chair Keith Chinnery said although there is no admission fee, the event generates plenty of economic benefit to the area since there are so many out-of-town attendees.
Mayor Randy Hope echoed that sentiment and praised the hard work and dedication of the FireFest committee members who also include Paul Greco, Pat Weaver and Wes Thompson.
Hope said education is a key component, noting the number of children who now know to call 911 in case of emergencies.
This year's event will feature a replica of the Engine 17 truck from the movie 'Backdraft' on display and a showing of the movie at the Capitol Theatre Saturday with admission being a donation to the Outreach for Hunger food bank.
Guest speakers include retired Chicago Fire Department Commander Mike Kovac who will demonstrate its 2,000 gallon-per-minute pump and Cambridge, Massachusetts firefighter (and former Survivor television show contestant) Jeremy Collins who played an active role in the search for the Boston Marathon bombers.
Another featured speaker on Saturday is historian and author Walt McCall, who will give an oral history of firefighting and the evolution of fire trucks at the Capitol Theatre.
New additions to FireFest Chatham-Kent this year include the Junior F.I.R.E. Challenge Course to be set up on Fourth Street between King and Wellington.
Kids will simulate conditions at a real fire scene including carrying hoses, shooting water and dragging a rescue-dummy while dressed in firefighter gear. The success of the kid's course at Firefest Combat Challenge, staged last year in the Downtown Chatham Centre parking lot, led to the idea for a locally designed and built Junior F.I.R.E. (First Incident Rescue Experience) Challenge Course.
Other attractions include an auto extrication demonstration by members of the Chatham-Kent Fire and Emergency Services, a truck rope pull competition, flashover demonstrations by Wallace-Kent Sprinklers, Entegrus bucket truck rides, pumping demos and a parade of vehicles to conclude the day.
The full schedule of events will be posted in the coming weeks at www.firefest.ca and facebook.com/ckfirefest.
Comments
comments