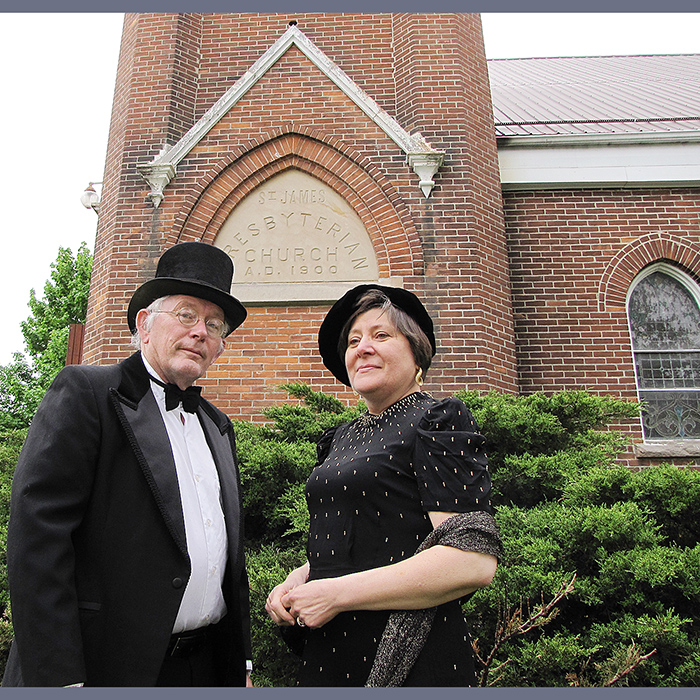 Ron and Bonnie VanRabaeys of Thamesville pose in 19th century costumes in front of the inscription plaque in the tower of St. James Presbyterian Church, Thamesville. The church is holding its last official event before closing.
The congregation of St. James Presbyterian Church in Thamesville is hosting its last official event May 29 before the church closes for good.
The 15 remaining members officially closed their church Nov. 30, 2014 after 148 years of Christian worship and witness in the community, according to a release from the National Presbyterian Museum.
The Farewell Concert for St. James will take people back in time to the year 1900 when the current St. James first opened and will feature heritage organ pieces, solos and hymns with Dr. Roger Bergs, organist from Knox Presbyterian Church in Toronto, soprano soloist Karianne Pasma from Bishop Cronyn Memorial Anglican Church in London, Ontario and Suzanne Schaafsma, soprano section leader of Knox Presbyterian Church in Toronto and former Ridgetown resident. Proceeds from the concert will support the National Presbyterian Museum.
People attending the concert are encouraged to wear period costumes and enjoy the music of the 115 year-old pipe organ produced by the Karn-Warren Organ Co. of Woodstock.
The church has historic significance as well because of its connection with Canadian writer Robertson Davies and his family, who made St. James his home church. Davies' father, William Rupert Davies, was the publisher and then owner of The Thamesville Herald from 1907 to 1919. Robertson, who was born in Thamesville in 1913, spent the first six years of his life attending this church with his family.
The concert begins at 7 p.m. and advance tickets are $20 for adults, $15 for seniors, students and under-employed, $5 for youth 12-18 years and children under 12 are free. Tickets are available in Thamesville at B's Hive Flower and Gifts, 9 Victoria Ave., (519) 692-5519 or by contacting Ian Mason at (519) 864-1119 or ilmason773@gmail.com.