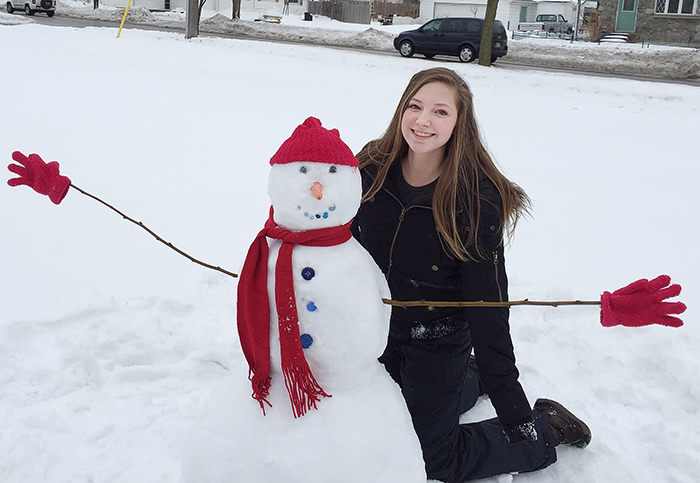 Students at Chatham-Kent Secondary School are engaging in winter fun with a purpose with 'Operation Snowman' at Meadow Park Nursing Home in Chatham, according to teacher Stephanie Kennedy.
With the winter snowscape leaving residents very little to look at out the windows, Meadow Park volunteer co-ordinator Lydia Swant challenged volunteers to perk up the view for residents.
Chatham Mazda from Chatham Voice on Vimeo.
Swant said snowmen have been popping up all over the place, and Kennedy's social justice class was interested in helping, turning the fun into a class assignment.
"We did this in conjunction with International Random Act of Kindness Week to spread some love in the week leading up to Valentine's Day," Kennedy explained.
The students had until Family Day to build a snowman, take a picture and post it to Google Classroom.
Student Kadianne Webb loved the overall experience.
"This was such a fabulous assignment. It brought back childhood memories and I was able to make new ones with my family," she said. "The residents gathered around to watch us make them outside of their windows. It's amazing to think that my actions can so greatly impact others in our community, and class projects can be so meaningful."
Kennedy said her students really embraced the project.
"It's amazing to see the capacity my students have for active citizenship and social change. It's so, so very important in our world," she said. "They are truly inspiring, and its great to see their positive actions butterfly into so many more in our community through our new initiative, Do Something CK."
That new project recently launched on Twitter @dosomethingck and on a Facebook page, Do Something CK, where they challenge the community to complete Random Act of Kindness assignments and post pictures to the group's Facebook page. Kennedy said the class is hoping to encourage students and community members to do good things
Comments
comments