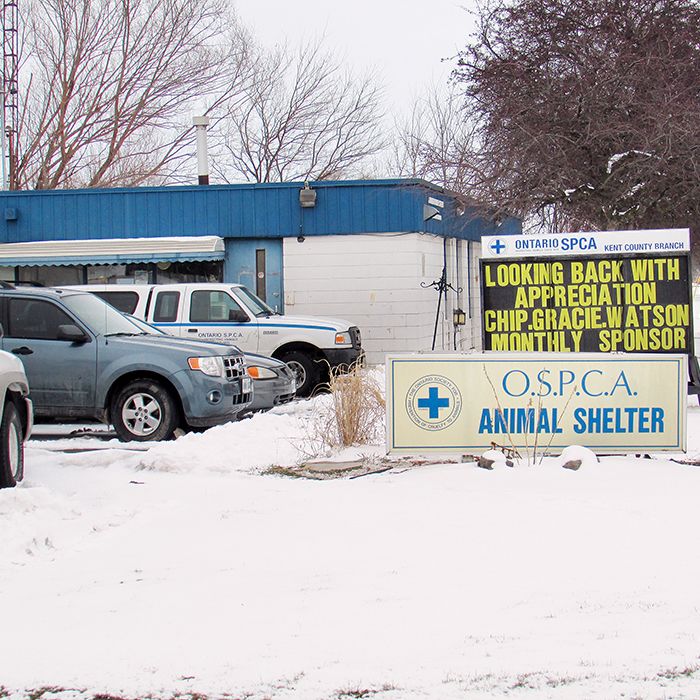 The local OSPCA could have a new home in the works.
South Kent Coun. Frank Vercouteren said local businessman Romoe Restorick, is donating five acres of land off of Park Avenue, with the intent of building a new animal shelter on the site.
"He's a real animal lover, I got talking to him, I've known him for years and years, probably 40 or 50," Vercouteren said. "I said to him one day it would be really nice if somebody would donate and then we could start building. But where do you go? He said, 'come here.'"
United FloorsCabinets from Chatham Voice on Vimeo.
Vercouteren said Restorick owned the buffalo ranch in Ridgetown for many years.
Restorick could not immediately be reached for comment.
Vercouteren said the site is about 1,000 feet from the corner of Park Avenue and Highway 40, backing up onto railway tracks.
The veteran Blenheim-area politician and real estate agent said he is thrilled with the news.
"We're working on it right now," he said. "It's a real good donation to get us started. I feel pretty good about this."
Vercouteren added the "land is secured" but extensive work needs to be done moving forward.
"This building will be constructed by volunteers and of course the donations will be from Chatham-Kent citizens," he said. "I don't anticipate any tax dollars going into this. This is going to be a real plus for Chatham-Kent. Eventually Chatham-Kent will have possession of the building with minor restrictions. This is what the donor is telling me."
Vercouteren said a new facility is long overdue for the Chatham branch of the Ontario Society for the Prevention of Cruelty towards Animals.
"We don't want a castle or anything," he said. "It has to be a basic shelter for the benefit of the animals of course. Possibly some areas where they can have a run, get some exercise, which of course they are not getting now. The place they got now is definitely inadequate. We need a lot more than that; we need a lot more space. We're getting to the point now that it is getting just too full and crowded."
Vercouteren said he is confident the community will step up and raise the funds necessary.
"We'll put a committee together and start a full fledge campaign, to raise enough funds to construct one of these buildings," he said. "Somebody just the other day said 'here is $1,000.' The enthusiasm is out there."
A team effort moving forward is the goal, Vercouteren said.
"We're trying to work together with the animal lovers, the people that are donating the funds, the OSPCA," he said. "We want to work together with (the OSPCA) to see what their needs are and what is required. Try to work on this together and try to do it as economically as possible, to best accommodate the animals we are dealing with."
Meetings with the OSPCA are scheduled for the end of the month.