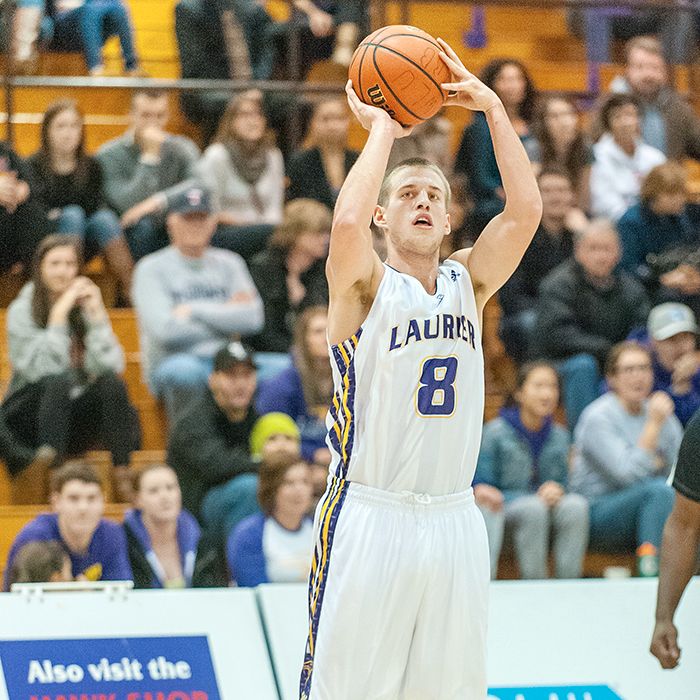 Max Allin is nearing the close of his fifth and final season of Ontario University Athletics basketball, playing with the Wilfrid Laurier University Golden Hawks.
Starting from the very beginning, named to the OUA's all-rookie team and a first or second Team all-star in each successive season, Allin, who recently scored his 1,500th career point, still has goals to achieve in his basketball career. He hopes to reach some of those before leaving school this year and some soon after.
baCK-video-30sec from Chatham Voice on Vimeo.
>
"My goal is to take this team to the OUA championships and get a shot at nationals," Allin said, whose Laurier Golden Hawks are in contention for the West Division title. "We are playing to win the division which is in reach for our team."
Despite his university career coming to a close, Allin said he's happy with the experience, and will not find it difficult to move on to new challenges.
"I don't think I will find it to difficult moving on after my five years of playing CIS basketball," explained Allin. "It's been a great experience for me and the game of basketball has done so much for me. I am very thankful to have competed consistently at a high level over my five years."
Allin – who followed in the footsteps of his older brothers who also played OUA basketball, and who will likely watch younger brother Luke Allin move into the OUA next season – also hopes to blaze his own trail next season as he turns pro.
Allin will move to Australia this spring to play professionally once his OUA season is complete at Laurier. He will be playing in the Big V, a Division 1 Championship Men's League, with the Southern Peninsula Sharks, located in Victoria, Australia.
Luke Sunderland, who is a former Wilfrid Laurier student, will coach Allin. According to Allin, his future coach saw game film, and researched his stats, which sparked a contract offer for the 6-foot-4 Ursuline College graduate.
"Luke (Sunderland) saw game film from last year and saw my stats on the CIS website, which got me my contract," explained Allin.
"Max is a terrific young man. I know with his work ethic and character, only good things will happen for him in the future," said Laurier Men's Basketball head coach Peter Campbell about his star player. "In the short term, I hope he enjoys his pro career in Australia and wherever else that will take him."
When Allin arrives in Australia, he'll be counted on to provide offense for the South Peninsula Sharks, much like he has for the Golden Hawks.
Last season, Allin was the leading scorer in Canada, averaging 23.2 points per game. He also set a school record for points in a game, scoring 43 in a game against Guelph. The CIS second team all-star from last season is Laurier's all-time leader in assists and rebounds, and sits second in career points.
For Campbell, it's difficult to quantify, despite his numbers, the impact Allin has had during his OUA and CIS career.
"As a Golden Hawk, Max has been one of the best scorers to ever play his career here," explained Campbell. "More importantly, his all-around game has allowed us to be a good team since his arrival. He has not only been the best Golden Hawk for the past few years, but also one of the best players in the OUA and CIS."
The OUA regular season will end Feb. 15 for Allin and the Golden Hawks when they travel to play the Western Mustangs.