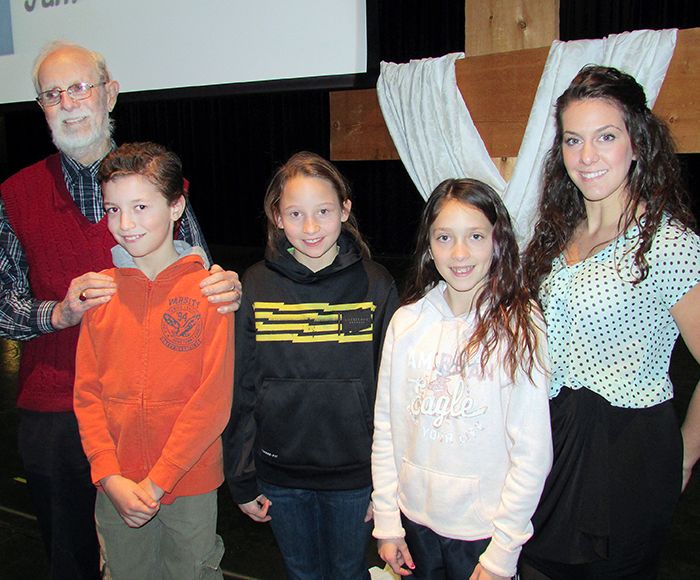 While many adults tend to lament the negatives of youth in our communities, there are so many things students are doing to applaud.
Students of the St. Clair Catholic District School Board gathered at Ursuline College (UCC) in Chatham Jan. 16 to report the results of annual Kingdom assignments.
Each year, student groups at UCC and area elementary schools receive $100 and are challenged to increase that amount as a fundraiser for the United Way Campaign. This year, according to board superintendent Deb Crawford, the total raised is $7,300 and counting, as more projects report in.
"This is a celebration of people who have been the hands and feet of Christ in this community," Crawford said of the students, teachers and parents involved in the numerous projects to raise funds and awareness for the United Way. "They have brought the Gospel to life."
Former superintendent Paul Wueben started the Kingdom assignment in 2008. Since that time, schools have raised just over $60,000 for the local United Way.
Crawford said the project is based on a parable from the Bible that talks about a landowner who gave three servants talents (money). Two of the three go and multiply them, and one does nothing. Students are asked to be like the servants who go out and multiply the talents to further God's Kingdom for the benefit of their community with the talents given to them by God.
Schools reporting at the event included St. Elizabeth, Christ the King and Holy Family in Wallaceburg; St. Joseph's, St. Ursula, George P. Vanier, St. Agnes, St. Vincent, Our Lady of Fatima and Monsignor Uyen in Chatham; St. Michael's in Ridgetown; St. Anne's in Blenheim; Good Shepherd in Thamesville; and St. Joseph's in Tilbury. UCC also has projects on the go.
United Way co-chairs Cecily Coppola and William Grin thanked the students for their commitment and generosity, and Coppola joked that in about 15 years, she will be recruiting all the student project leaders for the United Way campaign board.
"You are all so inspiring and amazing and will be helping so many people in our community with the money you have raised," Coppola said. "You are the future and you are showing us what you have in store for us."
Grin added he was very moved that the students have listened to what Christ has taught them.
"You students are an example for hundreds of people in our community," Grin said.