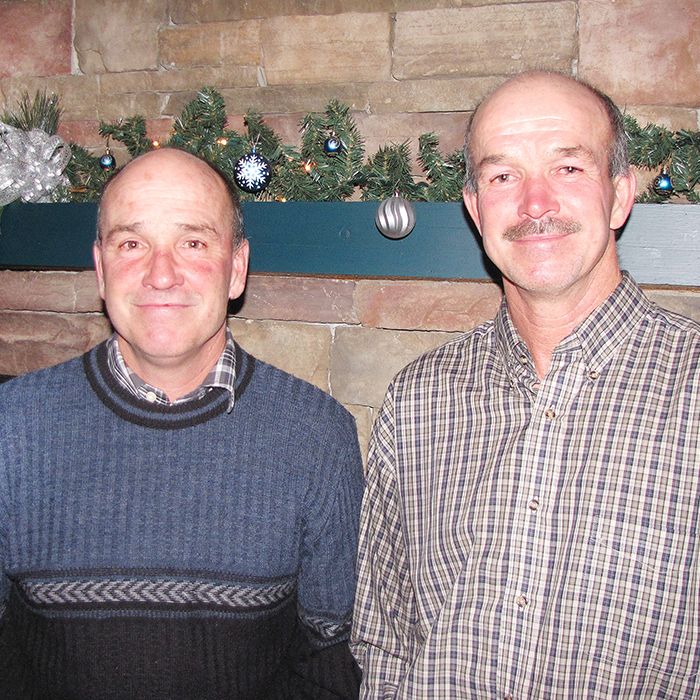 Bill and Earl Elgie have teamed up to earn the Outstanding Farmer of the Year Award from the Kent Soil and Crop Improvement Association.
The honour was presented during the association's annual meeting at the Links of Kent recently.
The Elgies, who farm near Dresden, were recognized for their lifelong commitment to conserving soil and improving the environment around their farm.
"They're great recipients," said association president Jeremy Segeren. "They have been (association) past-presidents and national champions of soil awards. They have been followed over the years as cover crop specialists, and people to go to for local expertise."
Affinity Commercial 02 from Chatham Voice on Vimeo.
The Elgies have a diversified farm business that includes field crops, processing vegetable crops, some tobacco, pigs, beef cattle and 50 woodlot acres, which they maintain for firewood and maple syrup.
In recent years, cover crops, such as red clover, have been attracting more interest because of their benefits. These include reducing soil erosion, improving the soil quality and providing important nutrients for the next crop.
"It builds soil organic matter so it holds more moisture, holds more nutrients, holds more air, everything," said Bill Elgie.
"Any of our farms that border a municipal ditch or stream have grass buffer strips," said Earl Elgie, of the many environmental improvements they have made over the years, which also include minimal tillage of the fields, and planting windbreaks.
This was the first year the association presented an award for Outstanding Farmer of the Year.
Previously, the honour was presented for the local Conservation Farm of the Year award.
"What we were running into was everybody in the farming industry was doing a good job, so we changed it," said Segeren, adding the new award broadens the criteria.
The local association nominated the Elgies for a regional lifetime achievement award as part of the celebrations to mark the 75th anniversary of the Ontario Soil and Crop Improvement Association.
"Unfortunately they didn't win for the region, but we wanted to give them the recognition, and it's just fitting," said Segeren of the choice to have the Elgies receive the first Outstanding Farmer of the Year award.
Comments
comments