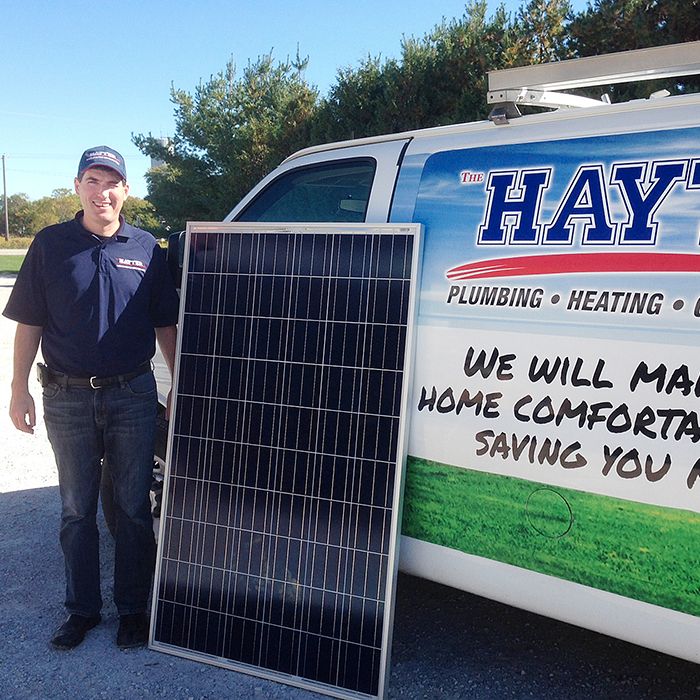 Chad Hayter thinks the province is getting it right this time around for one element of renewable energy – solar power.
Hayter, owner of the solar installation firm, The Hayter Group, has been doing solar installs for several years, however, his staff spends a lot of its time trying to overcome negativity surrounding the alternative power option and how it was introduced to the public.
"There were all kinds of issues with the larger-scale projects being able to connect into the grid, and frankly there were a lot of unscrupulous people involved early on, Hayter said. "Like any new field where there is money to be made, there were those who came in for the wrong reasons. Most of them didn't last, but the negative impression they left certainly has."
The family firm celebrated 60 years in business last year and has customers from Cambridge through Windsor. "We're not about to jeopardize our name for something we don't believe in," he said.
The Green Energy Act, designed to promote renewable energy, includes micro-fit installations on homes and smaller buildings.
"The province is guaranteeing 39.6 cents per kilowatt hour on 20-year contracts," Hayter said. "Over the life of the contract, the system could generate as much as $100,000."
He said his firm evaluates each home before a project, contacting local utility companies, providing cost and benefit estimates.
"Before we begin a project, we make sure we have an Ontario Power Authority contract offer, a local utility grid connection offer and a building permit," he said.
Hayter said home systems have a lifetime of 25 years and have comprehensive warrantees. Nearly 17,000 microfit systems have been installed across the province.
The cost of a small home system can begin at the $15,000 range, a far cry from even a few years ago. "The World Trade Organization ruled that the solar industry in Canada had to open up to allow global competition, so now suppliers have the option of going abroad for system components. That has really brought the prices down."
Hayter said although the initial push to urge solar use may have been flawed, the science was sound.
"The sun still shines, the components still work and it's there for the taking without any of the side effects caused by some other energy sources."
Solar energy is produced most when it is needed most, unlike wind and some other forms of generation, he said.
"Our electricity use in Ontario has severe peaks in the summer when we're trying to keep up with air conditioning needs. That's the same time that the sun beating down on your roof is generating power," Hayter said.