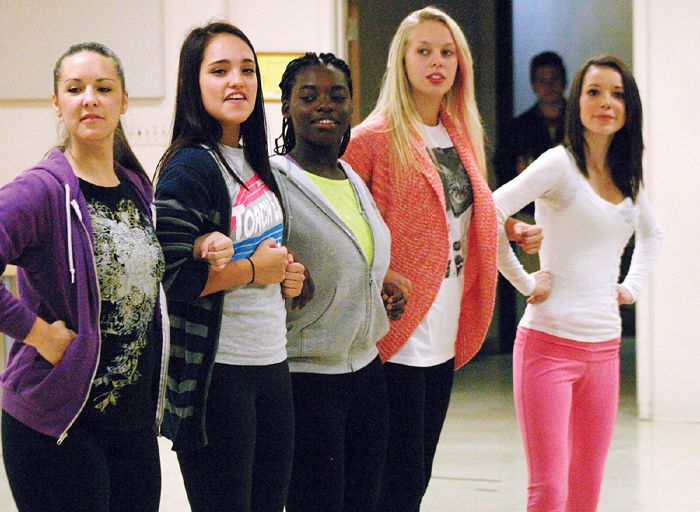 Charlote Amelia, left, Bailey Baggio, Yaaba Paintsil, Holly Patrick and Sadie Shill rehearse for the upcoming production of The Littlest Rockette.
After forming back in 1978, Theatre Kent is marking its 35th anniversary this year in the community.
Jenne Wason, a board member, actor and writer with the group, said Theatre Kent has grown over the years.
"It's impossible to say whether the performances are better … but they certainly are bigger," she said.
To mark their anniversary, the group held an open house and will feature a series of performances throughout the season.
In partnership with the St. Clair College Capitol Theatre, a historical play called "War Finds a Way: Fairfield 1813," written and directed by Chatham resident Karen Robinet, will run from Oct. 3-5 at the downtown theatre.
"It ties in with the War of 1812 theme and activities across Chatham-Kent," Wason said. "Although we are very happy at our home at the Kiwanis Theatre, performing on the Capitol stage is a big deal for us."
The next three shows of the season are all at the Kiwanis Theatre and are being sold together as a subscription series for $39.
"The Littlest Rockette" is an original, all-ages holiday musical written by Wason, and the music is by Joseph Benoit. It runs Nov. 21-23 at 8 p.m. and Nov. 23 at 1 p.m.
"Doubt: A Parable" by John Patrick Schanley is running from Feb 6-8, and "Out Of Order" by Ray Cooney wraps up the season, May 1-3.
Wason said many of the people involved with the theatre group are from in and around the Chatham-Kent community.
"Many people have been involved with the group since the beginning … especially some of the fans who come out and watch the performances," she said.
Wason added Theatre Kent is always looking for new people to join.
"There are many ways to get involved. You don't necessarily have to be on stage," she said. "You can help build sets, you can help backstage, help with costumes. Maybe you know someone that is a 'handyman' and likes to build things. They could always come out and help with building our sets."
Wason added the group makes it their mandate to incorporate something each season for the entire family.
"We want to provide something for the whole family to either take part in, or come out and watch together," she said.
For more details about Theatre Kent, check out its website at http://theatrekent.squarespace.com/.
Comments
comments