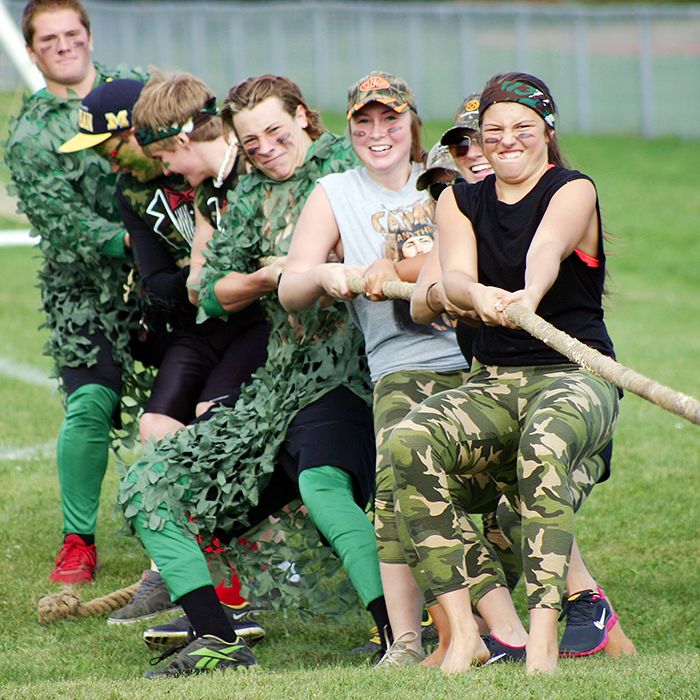 What do you get when you add homecoming-type festivities together with fundraising for the United Way?
Since 1955, the answer to this question in Chatham-Kent has been Red Feather weekend.
Students from schools all across Chatham-Kent held various fundraisers throughout the week and capped it off with a myriad of fun competitions at different locations in Chatham.
"It's about raising money for the United Way, about school spirit and having fun," said Maylee Bossy, fifth-year student at UCC.
Rachel Hoekstra, in Grade 12 at Chatham Christian, said students realize the importance of raising funds for the United Way.
"We try to raise the most money at each individual school, and at the end of the week we do a bunch of games," she said. "There are football games, and dodgeball tournaments and of course Animal House Olympics. This includes mattress toss, egg toss, catching marshmallows in your mouth and the tug-of-muck. Often times we just focus on one charity and this is good because it goes out to all different causes."
Christine Verhallen, in Grade 12 at UCC, said Red Feather brings out a lot of positive vibes.
"You are raising money, but at the same time you come together as a school," she said. "It says a lot about school spirit. Throughout the week, we did a lot of fundraisers but also at the same time had a dodgeball tournament, so there is money raised with that, but also the whole school got to participate. Raising money is obviously very, very important, but at the same time it does bring you together more as a school."
Daniel Moffat, a Grade 12 student at Lambton-Kent Composite School in Dresden, said it is fun to see people in a different setting other than sports.
"There are a lot of friendship rivalries," Moffat said. "There are a lot guys I've played volleyball against from other schools. Especially if you lose to them in volleyball, it's a way to get them back if you beat them in a tug of war … a little bit of bragging rights, you can get some pride back."
United Way officials said the final totals for student fundraising for the Red Feather activities would be known in the next few weeks.