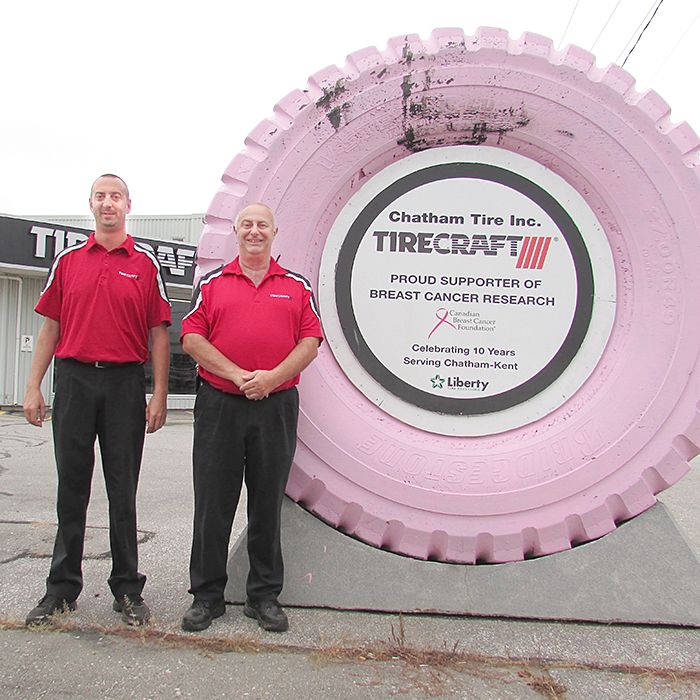 What do you do when you move your business to a new location and want to announce your presence?
If your last name is Legacy, you donate to breast cancer research and plunk a nine-foot tall pink tire out front for a year.
That's what Mark Legacy did when he moved the family Tirecraft operation last year from one location on Richmond Street in Chatham to a larger facility on the same street. And the tire is still at the 370 Richmond St. location.
The pink tire certainly draws people's attention.
Chatham Tirecraft is part of the Tirecraft chain across the nation that has about 80 stores and affiliates in Ontario alone.
The company heavily supports breast cancer research. It's Tirecraft's charity of choice. For the past seven years, Tirecraft has held an annual fundraising golf tournament. In that time, the Ontario outlets have combined to raise more than $350,000.
Legacy's wife Sandy said Liberty Tire, the company that collects tires for recycling from the various Tirecraft locations, donated the huge pink tire to be auctioned off annually.
"The highest bidder gets it for a year," Sandy explained. "Last year, we thought since we didn't have all our signage up yet we should bid for the tire. Everybody else knew Mark wanted it so they bid 'er up."
As a result, the Legacys shelled out $1,500 to display the tire.
This year's tournament took place Sept. 5, and Legacy wasn't about to let someone else get the pink tire for a year. He likes it just fine where it is, and donated another $900 to keep it.
Not everyone grows attached to a discarded tire off a 50-tonne dump truck, but the Legacys are fond of this one, and equally fond of raising money to help fight breast cancer.
Tim Legacy, manager of the Chatham Tirecraft and son of Mark and Sandy, may have additional plans for the tire come November, Sandy said. Don't be surprised to see it grow facial hair in support of the Movember movement to raise funds and awareness to combat prostate cancer.
Comments
comments