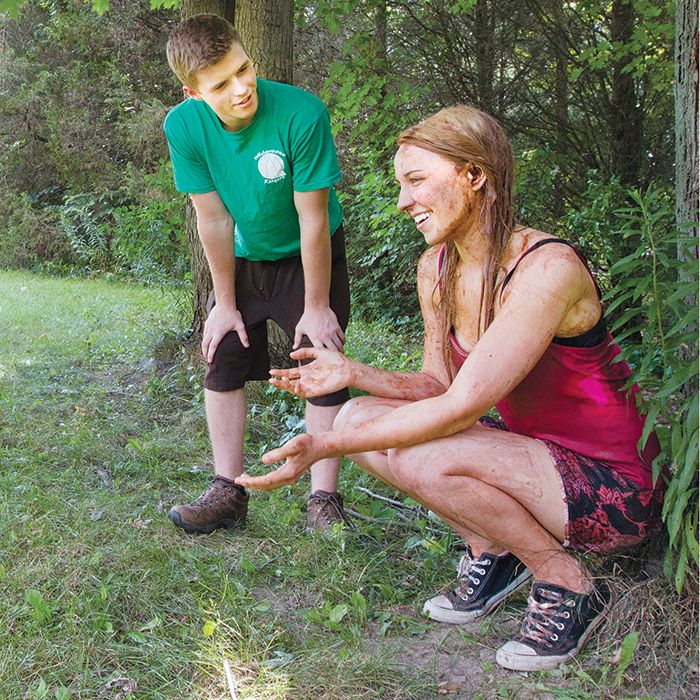 With mosquitoes on the prowl, actors and camera crew of the film production "Wilderness Adventures" concentrated all their efforts on delivering lines and capturing movie magic outdoors at C.M. Wilson Conservation Area.
The Chatham team, JX3 Media Productions, worked with local talent they auditioned to make their story, written by director Corrinne Wood, into a feature-length film reality.
"We really try to work with people in the community and try to get Chatham known through our film business," said Wood.
The plot revolves around superficial teenager Vanessa played by Nicole Coenen, who, after being tricked into attending a camping trip to meet a cute boy and becoming prey of a series of humorous pranks from her fellow campers involving a firecracker and portable toilet, ends up learning a thing or two about herself.
Wood, who is a mother of five, said her idea for the story came from hoping others learn it's all right to just be themselves.
"I like to do stories to inspire people and really kind of hit home about subjects that are important," said Wood.
For JX3 Media Productions, this was not the members' first production this summer, filming last year's 'Dark Betrayals', which aired on TVCogeco and 'A Heart's Journey' this past April.
"It's been busy, jumping from one production to the next," said co-founder Kristina Garant who is in charge of props, makeup and wardrobe for this production.
Venturing on their own this year, Garant and Wood who came from theatre and drama backgrounds, say they learnt a lot from their previous work with Cogeco.
"Coming from theatre into film is a huge difference," said Wood.
"Even the acting styles are different," she added.
With filming coming to a close in the next couple weeks to begin post-production work, Wood and Garant say there is still time for Chatham-Kent to get involved.
"There's a lot of expenses associated with filming a production," said Wood of food, prop and rental costs.
Garant says she and the rest of the team would not be able to make their films without the support of the Chatham-Kent community.
"Without getting community support, it's going to be hard to continue producing," said Garant.
Generosity has been shown by the community which has allowed the production to film at various locations at no charge including C.M. Wilson Conservation Area, Rondeau Park and Melinda's Dance School in Ridgetown to name a few.
For those interested in being in front of the camera and on the silver screen and behind the scenes, they can e-mail info@jx3mediaproductions.com for more information on becoming an extra and donating to receive a special credit in the final film.