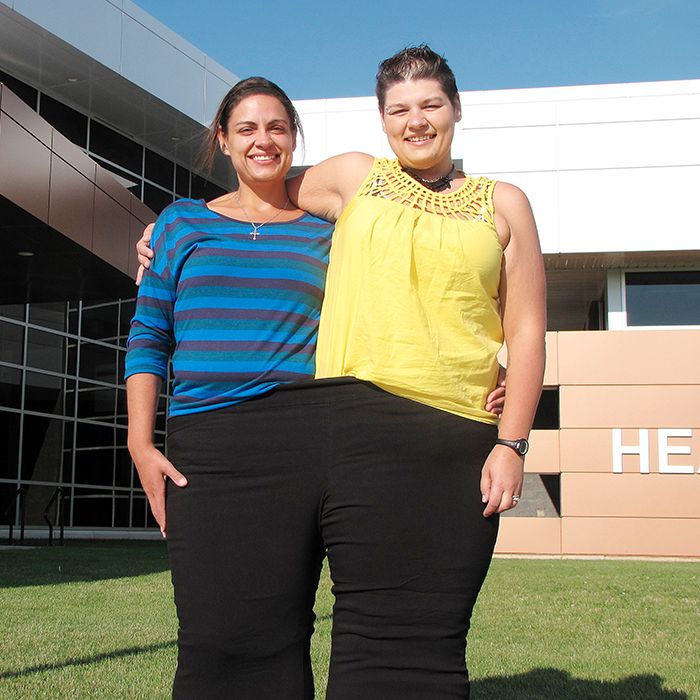 Two Chatham women who have conquered obesity and poor health are ready to take on the Chatham-Kent Amazing Race.
Cindy Browning and Renee Phillip, both healthcare professionals, have entered Saturday's competition as "Slim Pickens."
The name reflects a proud achievement – losing a combined total of close to 400 pounds.
"I feel really excited. I feel good because I have so much energy and this is a dream that I've just never imagined doing anything like this," said Browning of competing in the eighth annual fundraiser for the United Way of Chatham-Kent.
For Phillip, the ability to participate is a victory already because it's a chance to move from the shadows and into the limelight.
"Appearance-wise, you always try and hide when you're big; you wear something dark, you stand at the back of the crowd," she said. "You go to events (with) friends but you're just there, you're a shadow. Now I get to be the person in front."
At her heaviest, Phillip weighed 362 pounds. The 31-year-old registered practical nurse has since lost 165 pounds.
"I couldn't breathe. I couldn't move. I was very afraid of everything that involved movement," said Phillip.
Browning, a 34-year-old developmental services worker, has lost 210 pounds.
"I was basically dying; I had diabetes and high blood pressure," said Browning, who weighed 384 pounds. "My doctor looked at me, stone-cold, in the face and said, 'you're going to die if this doesn't change.'"
Both women had bariatric surgery, which is a term for surgical weight-loss procedures.
These include gastric bypass surgery that involves dividing the stomach and creating a small pouch in the upper part of the stomach.
For Browning, who lost 100 pounds before having the surgery, the procedure was the last resort.
"I had the surgery done to keep me from going backwards," said she said, noting that she had failed "miserably" with many diets. "I tried all other options before this."
Similar to a heart surgery patient having to undergo a lifestyle change, Browning is dedicated to the work that's involved to keep the weight off.
"I've made a total commitment to it, following the restrictions in the food area as well as exercising," said Browning. "I can do way more. (Before) I could only walk because of the pain in my knees, feet and back. But now that I've lost the weight, I can run for the first time in years."
"If you're not willing to put in the work, if you are not willing to put in the diet, the lifestyle change, the exercise…you just won't lose the weight; you're just going to gain it back," added Phillip. "It's a hand up, not a handout."
The combination of the weight loss and restored confidence is inspiring Phillip to try events such as rock climbing that she used to watch on TV.
"It's worth every bit of sacrifice and work, that's put into it," she said.
The women, who met at a weight-loss support group in Chatham, also believe their teamwork and determination to overcome their health problems will help in the Amazing Race.
"It's given us a bit of an edge because we have extra strength, and we're smart," said Phillip, in a good-natured warning to the other 27 teams that will be taking part.
The race gets underway Saturday at the Union Gas head office in Chatham.
Comments
comments