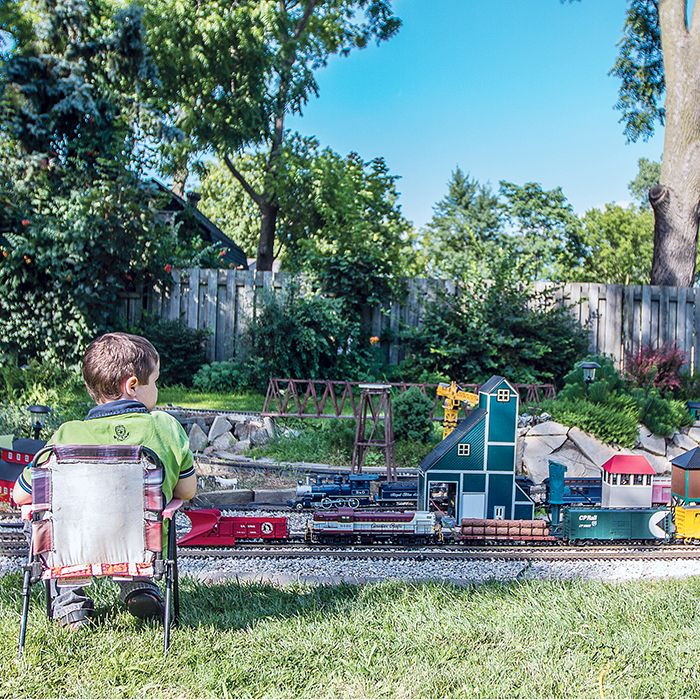 Train tracks may be less common on Chatham-Kent streets and roads, but in Roy Walker's south Chatham back yard, the spirit of the rails is alive and well.
Walker has been constructing garden-scale model railways fro approximately seven years. This is his fourth track since beginning the hobby which all began with a simple track that circled his family's Christmas tree.
"We just like trains," Walker said. "I like tinkering, gardening, woodworking and working with the electronic components so it just works out."
Walker's current track took about two weeks to plot the design, wire the track and the buildings and landscape the area.
"We just made some space and laid out some track," Walker said.
About 600-feet of track, to be accurate. The area the track covers in Walker's yard is approximately 120 by 16 feet wide and is made up of two continuous loops, one hand-crafted steel trestle bridge and two tunnels made of PVC.
The track itself is made of brass and is kept outside all year. During winter months, Walker uses one of his trains to push snow off the tracks.
He obtains his equipment at train shows in Woodstock, Essex and at some of the larger shows in the USA.
"It's (backyard track building) huge in the states," he said. "It's a lot more popular than it is here."
Alex, a five-year-old family member living with Walker, said he likes watching the trains circle their way around the track and enjoys using the remote control.
Walker said the train is a great therapeutic outlet for Alex as well.
"It's important for him to have something he enjoys to keep him occupied," he said. "It keeps him occupied, makes him happy and gives him something to focus on. It's been great for him."
Linda Leigh, Alex's four-year-old sister, doesn't enjoy the train as much as he does.
"She's more of a girly-girl," he said. "If she had to choose though, she'd say Thomas is her favourite engine."
Being an outside installation, it would be easy to assume Walker's track could be exposed to things that could potentially cause damage to the set.
So far though, according to Walker, the most pressing concern is his two pugs.
"They like to run and through the gravel which can wind up on the tracks. That's about the worst of it though," he said.
There are seven different scales of train sets, starting with micro trains and working all the way up to ride-ons. The garden scale Walker works in is 1/32nd scale. His set consists of approximately 15 buildings, 100 train cars and 12 engines. All the buildings on Walker's track are model kits that he hand-built.
This fall, Walker hopes to build an 8 X16 foot rain shed to store his trains. "I like to tinker," he said. "We're continuously changing and adding things."
Walker said he and his spouse work approximately two hours every night wedding and maintaining the garden, checking the tracks and running the trains.
Though it's not as popular a hobby as it is in the states, Walker said there are at least four other tracks in Chatham-Kent train enthusiast's backyards and a very large, involved track relatively close by at the London's Children's hospital.
All four other track owners, as well as Walker, are members of the Chatham-Kent Garden Railroad Society. It currently hosts about 25 members who meet once a month to discuss ideas, advice and their current projects. Their website is www.ckgrs.com and memberships can be purchased for $20 a year.
"You don't need to have a train to be a member," Walker said, "just like them."
Comments
comments