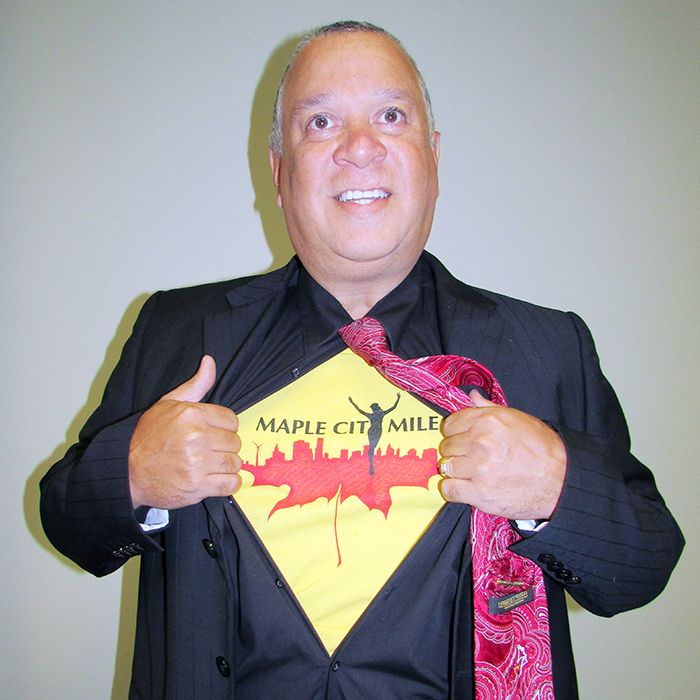 "Superman" Doug Robbins proudly rips open his dress shirt to display the Maple City Mile T-shirt underneath.
Doug Robbins doesn't care if you walk or run; he just hopes you get – or remain –active.
Robbins, president of the Chatham-Kent chapter of the Heart and Stroke Foundation of Ontario, is also the founder of the Maple City Mile run, which returns for a second year on Labour Day, Sept. 2, in town.
"We call it the Maple City Movement," Robbins said. "The overall goal of this was to do something that got people moving."
The Mile hosts clinics to help folks put one foot in front of the other. Robbins said this past spring, there were 90 participants.
The end goal, whether walking or running, is to take part in the Labour Day event. To accommodate, the Maple City Mile has a 5K walk/run, a 10K run and a 16K run. And all events are open to the public.
Robbins encourages participants to register in advance of the event. This can be done online at www.maplecitymile.com, or stop by Victory Ford on Aug. 26 from 6 p.m. to 8 p.m. to sign up.
The cost is $50 to take part in the 5K and 10K, and $60 for the 16K. All proceeds go to the Chatham-Kent branch of the Heart and Stroke Foundation, Robbins said.
"We'd like to see people come out and put their heart into it," Robbins said.
The race begins at 8:30 a.m. at Memorial Arena in Chatham, heads east on Tweedsmuir and south on Queen before turning west onto Seventh Line.
Robbins said although the races are measured in kilometres, the Maple City Mile name is fitting.
"Whether they run a 5K or 10K, it's a milestone for them," he said.
"They think they are going to die after running the first minute," Robbins said of training participants. "And now they're doing 5Ks."
The movement is also a strong support system, he added.
"Sweat is a bonding agent," Robbins said. "You get out with others, sweat and groan and realize you can do it too."
Clinic members do three runs a week, one of which is a peer run where participants run with friends.
That support plan continues through the race, Robbins said.
"Last year, a runner didn't think she could finish," he explained. "A group of volunteers gathered and ran with her as motivation. It was very inspirational."