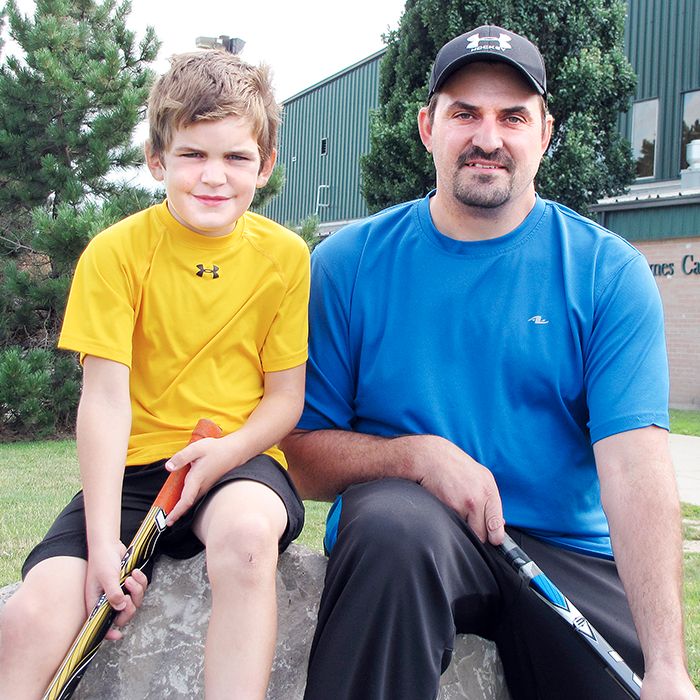 When eight-year-old Ethan Savard of Chatham learned that some kids can't afford to play hockey, he wanted to do something.
Moved by his desire to help, his parents organized a fundraiser – Ethan's 3-on-3 Play for Tomorrow.
They're inviting boys and girls, aged four to 12, to register for the tournament on Aug. 25 at Todd Warriner's Hockey Station at 20 Currie St. in Chatham.
The cost is $10 per player, with proceeds to benefit the local A.L.L. (Arts, Lessons and Leisure) For Kids program.
"I really like hockey so I think everyone should be able play," said Ethan, a student at Ecole Ste. Marie.
Craig Savard said his son started to ask questions after hearing that not all kids have the money to play sports.
"I call him 'my big heart.' He's just an incredibly caring kid," said Craig. "He's gone on his own to get stuff for canned food drives and he'll even take some of his allowance to make sure he's bringing enough cans to school."
The goal for the first ever fundraiser is $1,000, which would allow two kids to play hockey this year.
In addition to the 3-on-3 games, there will be raffle prizes and a 50-50 draw.
The teams will be drawn at random (three players and a goalie), according to age, to make it a fun event for all.
"Whether you lose or not, it's not a huge deal but you want to have some fun. And it's not any fun if you lose 10-0," said Savard.
He's hoping there will be five or six teams in each age division (ages 4-6; 7-9; 10-12).
Each game will be 15 minutes long. Players will only need their skates, helmets, sticks and gloves.
Savard said Warriner came on board immediately, agreeing to let the group use his facility "almost for free."
The event is scheduled to run on Aug.25 from 10 a.m. to 4 p.m. but players may arrive early to experience the incline skating ramp and the target shooting at the Hockey Station.
People interested in registering for the event can call Craig or Lindsay Savard at 519-358-7571, or send an email to ethans3on3@gmail.com.
Completed registration forms can be dropped at Playback Sports and Maximum Edge.
More information and updates are available on Facebook at facebook.com/Ethans3On3PlayForTomorrowFundraiser.