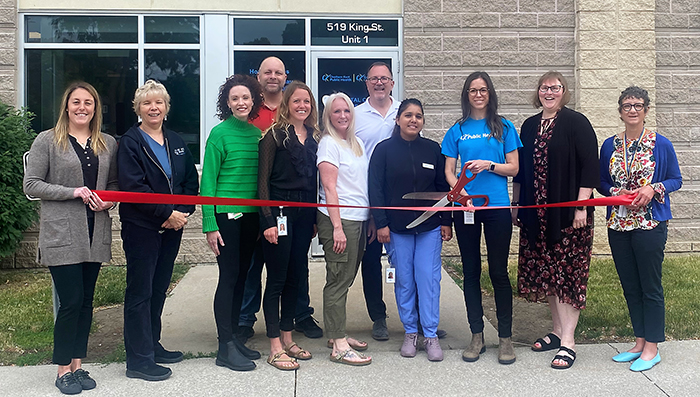 By Pam Wright
Local Journalism Initiative Reporter
Low-income seniors in Chatham-Kent needing dental care have a new reason to smile.
That's thanks to a new CK Public Health dental clinic that officially opened earlier this month.
Located at 519 King St. W. on the Robertson Avenue side of Riverview Gardens, the clinic will assist clients who qualify for the Ontario Seniors Dental Care Program or the Healthy Smiles Ontario initiative.
The clinic does not take payment for service, with the exception of clients having to pay a minimal fee to make new dentures.
CK Public Health program manager Carina Caryn, said the expansion of the provincially funded dental care programs created the need for bigger digs.
Caryn said CKPH was grateful to serve the needs of residents at its former King Street East location for many years, but the need is growing, adding that with more people accessing the new funding "it was necessary for us to move to a larger location to better meet the needs of our clients."
The clinic, which is staffed with two program assistants, three certified dental assistants, two registered dental hygienists and a dentist, offers a variety of services.
Though each client is different, under Healthy Smiles Ontario, services covered can include exams, routine checkups and preventative services.
Under the Ontario Seniors Dental Care program, examinations; assessments; X-rays; preventative work, such as cleanings; restorative services to repair broken teeth and cavities; oral surgery services to remove teeth or abnormal tissue; anesthesia; root canals to treat infection and pain; and periodontal services to treat gum conditions and diseases, crowns and dentures are covered.
However, eligibility criteria to access the services applies. Those who are interested are invited to review the requirements online or visit CKPublicHealth.com/Smile or call 519-355-1071 ext. 5700.