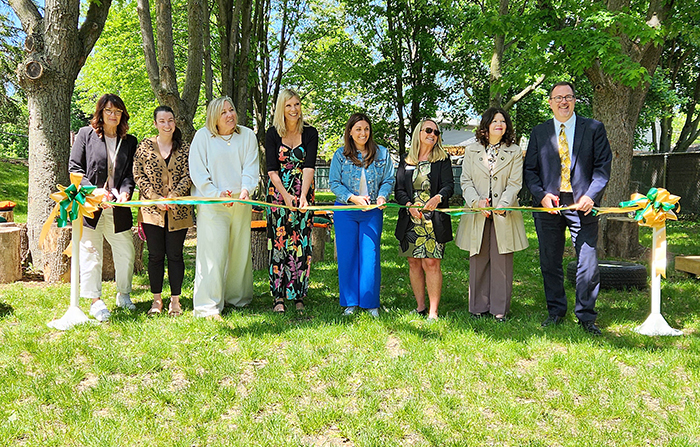 By Pam Wright
Local Journalism Initiative Reporter
There are babes in the woods at St. Clair College's Thames Campus.
Young pupils, teachers and aspiring early childhood educators (ECEs) are there too.
Last week marked the grand opening of the school's new outdoor education lab. Located in a shady grove of maples beside the Mary Uniac building, the welcoming space features native plants, a small wooden teepee and canoe, a circle made of log stools where youngsters can gather, raised garden beds and an outdoor obstacle course.
Leading educators and politicians attended the ribbon cutting, with many championing the benefits of nature and the outdoors on a child's developing brain.
"The benefits are really two-fold," said St. Clair College ECE professor Brenda Huff, adding outdoor education benefits adult learners as well as children.
Spending time in natural spaces helps reduce stress and enhance wellness for people of all ages, Huff said, allowing the individual to be "connected back to nature.
"Our students are able to make the connection back to the land and they report a lot of health benefits," Huff added. "Compared to a traditional classroom indoors, we're doing a lot of instructional teaching out in a space where we can do experiential learning."
Some of the ECE courses incorporate land-based Indigenous teachings as well, Huff said.
Kelly Emery, director of community and human services/child care for the municipality, said nurturing children's brains with nature-based experiences is essential.
"Early brain development pays back an investment for years and years to come," Emery told the gathering. "We need to remember that. Early years are the cornerstone of our economy. Let's keep that in mind as we move forward."
Emery said the type of learning occurring in the outdoor lab is vital, as skilled ECEs are needed throughout the province "more than ever."
The St. Clair College outdoor education lab is one of 10 at colleges in Canada affiliated with an Okanagan College Applied Faculty Research project aimed at exploring research and practices associated with outdoor pedagogy. Huff is one of the faculty on the initiative, representing St. Clair College.
St. Angela Merici Catholic School has also partnered with the college on the new space, bringing their kindergarten students to the lab on a rotating basis.
The new outdoor lab received funding from three partners, including the Municipality of Chatham-Kent, the Chatham-Kent YMCA Foundation and the St. Clair College Alumni Association.