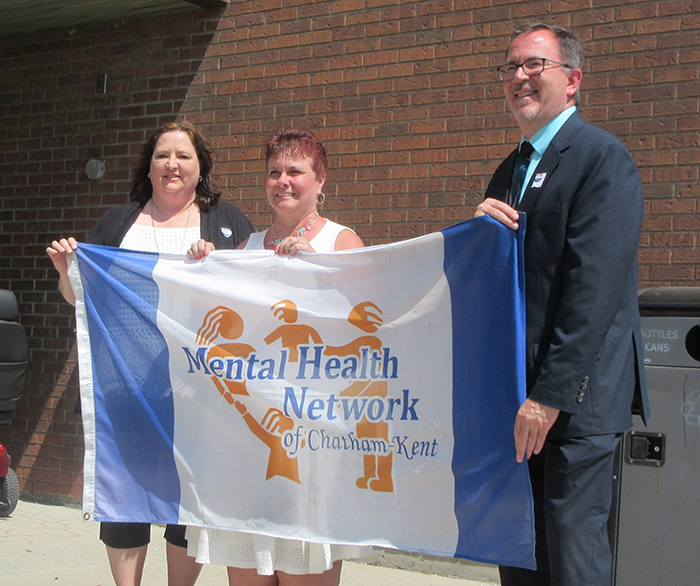 The Mental Health Network of Chatham Kent (MHNCK) held a flag raising at the Civic Centre on Monday in celebration of Mental Health Month.
According to MHNCK officials, one in three Canadians will be affected by mental health in their lifetime.
MHNCK spokesperson Jennifer Jackson said the pandemic had a profound impact on mental health in Chatham-Kent and beyond. There is still fallout, in fact.
"Last year, our executive director spoke about the pandemic and how it overwhelmed the mental health system. This year, I ask you, 'Since the pandemic has been declared over, how has it impacted your mental health?'" she asked those gathered for the flag raising. "We need to talk about how isolation has impacted us all. Please know that we offer programs on how to eliminate or reduce isolation at the Mental Health Network. Our programs are free, and we have no waiting list."
Jackson said the pandemic led to isolation and a reduction in contact between people. Emerging from the pandemic, there are people who are afraid to leave their homes.
"This has caused anxiety and dread as we return to work, school, or other outside activities. Isolation itself during the pandemic has left its mark. Social isolation and loneliness are just as harmful to your health as smoking is," she said.
Isolation is a risk factor in suicides. In Canada, according to the Centre for Addiction and Mental Health figures, 4,000 Canadians commit suicide each year.
"The feeling of not belonging or not feeling connected to others can be very powerful. Being alone, wears on you. It can lead to spending way too much time in your own head, ruminating over past situations or worrying about what's going on in the world around you…yet you have no control over it," Jackson said. "When people have the supports they need, along with respect and dignity, they can be fully involved in work, family life, and their communities."
She urged anyone experiencing mental health difficulties to reach out to MHNCK, also known as Hope House.