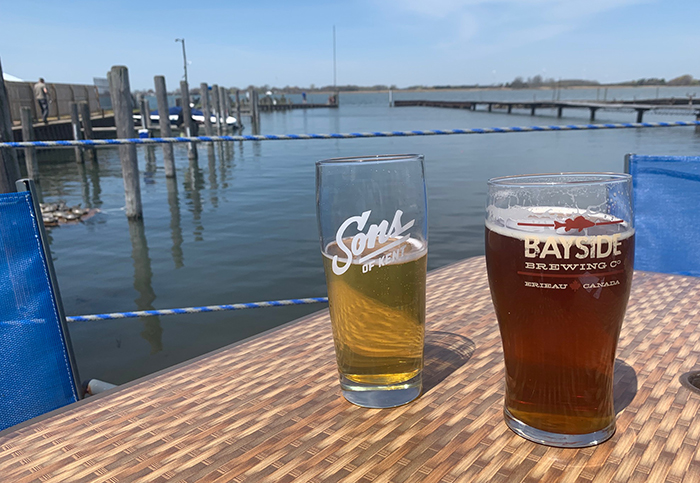 I had the chance recently to sample a Mango Tango Lager from Bayside Brewing Co. in Erieau. It's a refreshing beverage for the summer for sure.
Our adult daughter, Brenna, whom some of her friends jokingly call a craft beer snob, enjoyed it as well.
That was one week while out and about. The next involved a stop at Rondeau Joe's just outside the provincial park.
We hit the eatery at noon on a Thursday. Perfect weather saw us sit on the patio for lunch and watch the turtles.
Pub owner Paul Trudell has upgraded what is available for the northern map turtles that love to sun themselves by Rondeau Joe's patio every May. Previously, there were a couple of old waterlogged docks that the turtles used, but Trudell has upgraded to a sunning platform.
He has to put on hip waders and get into the water to secure the platform each spring, but he doesn't seem to mind. Heck, he even has it set up so one end of the platform is lower, making it easier for the turtles to climb aboard.
Sunshine lures the turtles out of the water, sometimes to the point they are stacked up on top of one another. When we were there, about 15 turtles enjoyed the platform, but Trudell said he's counted as many as 40 on there at one time.
I love the weekday tranquility of Rondeau Joe's patio at this time of the year. There are no bugs, the turtles provide entertainment, the food – as always – is great, and it is just plain relaxing.
My only issue is the lingering problems with my hip. My lower left leg swelled up a fair bit while sitting there. I'll have to watch that in the future.
Speaking of the hip, I did something on a recent Sunday I had not done in almost a year: moved around the house without a cane.
It came a day after family descended on our backyard for a two-day rejuvenation event. Mary Beth's cousin Jessie and her husband Dale are awesome folks and they led the charge, bringing teenaged assistants along. I was left mostly spectating, but fired up the Big Green Egg to feed everyone.
As they raked up leftover leaves, cut down and removed scrub brush along our fence line, I hit Schinkels' Gourmet Meats for simple hamburgers and hot dogs. Except when you buy hot dogs at Schinkels', it's never simple. Their ballpark franks are awesome! I like their burgers as well, obviously, and expected those to be inhaled by our hungry work team.
However, despite me seasoning the burgers and adding slices of cheddar cheese, the dogs were just as popular, if not more so.
We ate outside without the benefit of a patio table. How do you know when it's time to replace your patio table? When you go to move it and the top leaves the base behind. That's what happened with us this spring. The table, which had served three different families over a lot of years, was sent into retirement as part of the clean-up effort.
We still have two of the chairs, however, but the others had turned into bucket seats as the fabric had given way.