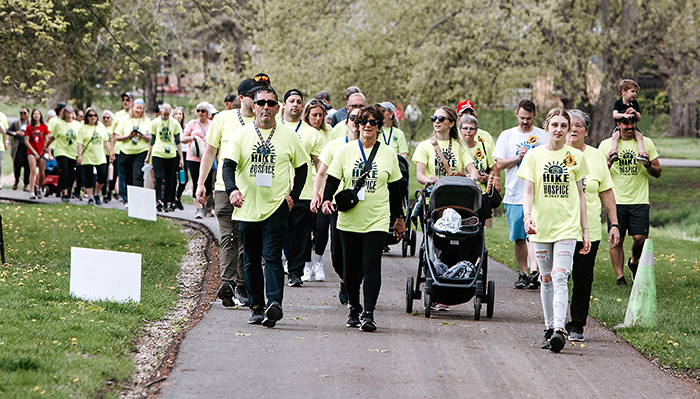 As usual, the weather co-operated and supporters laced up their walking shoes in droves for the recent Hike for Hospice in Chatham.
More than 600 people registered for the event, which took place May 1-7 along Mud Creek Trail, with the bulk of participants walking together at the in-person event on May 7.
Jodi Maroney, executive director of the Chatham-Kent Hospice, said more than $150,000 was raised. That's up from previous years, as the hike raised $129,000 in 2022 and $143,000 in 2021.
Overall, in its seven years, the local hike has brought in more than $785,000 for the hospice.
Maroney said organizers were ecstatic with the results.
"It's a really meaningful day for a lot of people. We were very, very pleased. We saw a large uptick of online donations this year," she said. "This was fantastic, as we had a lot of money handed in in advance. But we did have some money come in on walk day. In fact, we're still getting donations."
A number of the participants opted to walk the route on their own during the week, but Maroney said there were in excess of 400 people out on hike day.
"This year, we added some pre-hike programming," Maroney said, which included a band and a school choir. "It kept people occupied while they were waiting."
The funds raided with the hike help provide end-of-life care including residential hospice care, care co-ordination and grief and bereavement support to local families at no cost to them.
"We are so thankful to the hikers and the donors for all they do to support our hospice families. It was so touching to see so many people walking together on the trail, and all the memorial signs are just a reminder of the impact hospice has made in our community over the past seven years," Ginny Hawken, special event chair for the Chatham-Kent Hospice Foundation board of directors, said in a media release.
A number of workplaces from across Chatham-Kent participated in the hike's corporate challenge as well. The winning team was Hopkins Hikers from Hopkins Canada of Blenheim. Honourable mentions go to Battery Boy, Kent & Essex Mutual Crusaders, Hub Hikers, Maple Mutuals and TekSavvy Trailblazers.
As for what the future holds for the hike, Maroney said there could be a few tweaks made.
"We're just trying to figure out what next year will look like. We've got a really great, dedicated hike committee. We'll debrief with them and get some great ideas," she said.