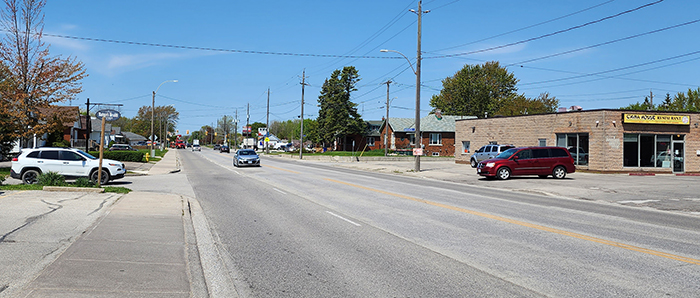 Dufferin Avenue in Wallaceburg is finally getting an upgrade.
After being declined for provincial Connecting Link funding in 2017 and 2018, the Ford Government agreed to dole out $3 million to help with the $8.7-million project.
Back in 2017, the cost of the project was estimated at $4.9 million.
According to municipal officials, the scope of the project has changed since then, but inflation has played a role in the cost increase as well.
This project consists of the rehabilitation of Dufferin Avenue from McNaughton Avenue to the west limits of Wallaceburg. The work includes the replacement of the water main from Arnold Street to the western limits; installation of a new storm sewer between Arnold and McNaughton Avenue; as well as curb replacement and new sidewalk along portions of Dufferin.
There will also be traffic signal and intersection improvements.
Construction is planned to begin in June and completed by November, with restoration work completed next spring.
Two lanes of traffic on Dufferin Avenue and access to all properties and business will be maintained at all times throughout construction, officials confirm.
Council voted to award the tender in the amount of $8,747,892.86 for the project to Birnam Excavating Ltd.
The Ministry of Transportation's Connecting Links Program aids municipalities with repairing designated municipal roadways and bridges that connect two ends of a provincial highway through a community or to a border crossing, the municipal report stated.
There are 77 Ontario municipalities eligible to apply for funding, with the maximum amount for road work set at $3 million, with the bridgework maximum set at $5 million.
It's up to the applying municipality to pay for the remaining 10 per cent of eligible costs and cover all of the ineligible costs.
Wallaceburg Coun. Aaron Hall said the province needs to rethink its funding allocation limits with the Connecting Link program. The maximum of $3 million remains unchanged between 2017 and 2023.
"I think it's really important that the province re-evaluates the program," he said. "Project costs continue to rise year after year. The burden continues to fall on the taxpayers of Chatham-Kent."