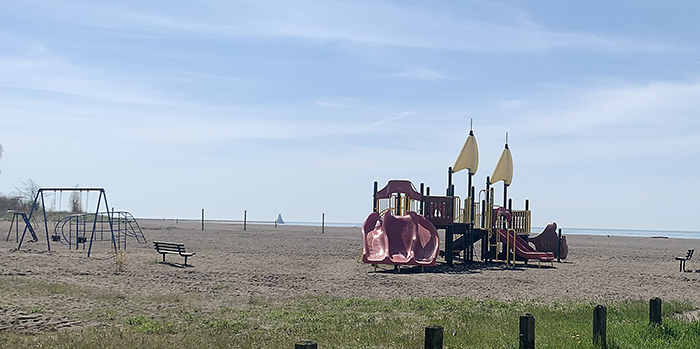 By Pam Wright
Local Journalism Initiative Reporter
Playing at Erieau Beach may be a whole lot more fun this summer.
An inflatable water park, dubbed 'Aqua City,' could be the lakeside community's next attraction if approvals are met.
The announcement was made via video by Mayor Darrin Canniff on his Facebook page, and South Kent Coun. Ryan Doyle, along with Aqua City owners Sam Tudorica and Michael Fife.
Doyle said he was "very pumped up" about the news, before conducting a brief interview with Tudorica and Fife.
According to Tudorica, Aqua City will be located some 200 feet off the beach and consists of obstacle courses, slides, swings, trampolines and is for everyone, not just youth.
"This exciting attraction is our first one in the southwestern region and I think it's going to be a great opportunity for Erieau this summer," she said.
Fife, who was born and raised in Chatham, said Erieau was chosen because the beach is "our gem.
"It's perfect for this sort of activity and Chatham's very welcoming," he said. "Small business can thrive here," Fife said, adding his family has been involved with small business in Chatham-Kent since the 1950s.
However, approvals are still needed for Aqua City to proceed. Essex County council, which had originally approved Aqua City for Colchester Beach in April, reversed its decision earlier this month after hearing from residents citing concerns about safety and parking.
Mayor Darrin Caniff said it's still early days for the C-K initiative and it's not yet clear what approvals are needed as exact governance needs to be ironed out.
"We only started this process about a week ago," Canniff told The Voice. "Many things still need to be determined. The municipality doesn't own the water. We're not sure yet, but something will likely come to council."
As far as the Erieau community goes, Aqua City director Fife met with the Erieau Community Association May 10 to go over concerns.
Canniff said some issues were raised at the meeting, but noted Fife is "very keen to work with the local people to create a win-win situation."
The mayor said Chatham-Kent will be able to utilize information gleaned from the initial Aqua City bid in Essex County.
"We will certainly do our due diligence," Canniff added.
The water park announcement is part of the mayor's Celebrating CK in May campaign. Each business day, Canniff has announced something new and positive for the municipality.
Aqua City was Day 11.