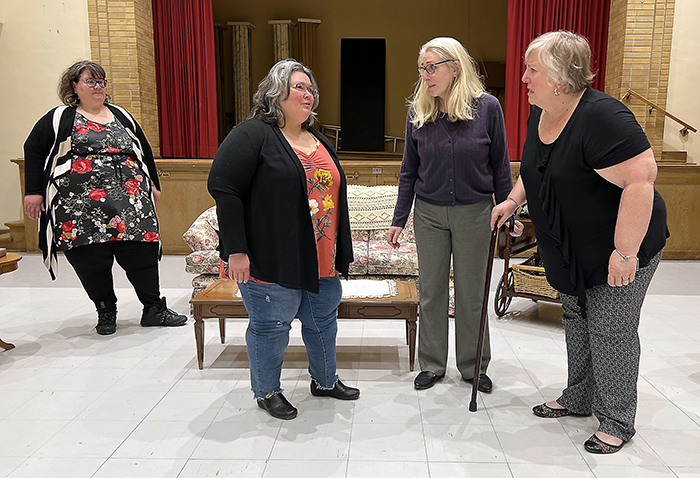 By Pam Wright
Local Journalism Initiative Reporter
It's been about 10 years since Dan White first directed the play 'Remember, Maggy?'
Yet, the Wallaceburg resident said the powerful piece, written by a mother and son playwright team from Sarnia, still has all the feels.
White said it's the only play he's directed in the 40 years he's been involved with theatre that actors have been upset they couldn't audition for it, noting at least 20 people vied for the four main roles.
The emotional storyline explores the relationship of sisters Maggy, played by Robyn Brady; and Kate, played by Lisa Franks, as they navigate their complex relationship as polar opposites, struggling to stay connected while dealing with their sharp-tongued Irish mother Niamh, who has Alzheimer's disease.
In their 40s, Maggy is a self-destructive actor and Kate is a widowed housewife. While the two are faced with the most serious of issues, life isn't all doom and gloom as the family's decidedly complicated interactions are often hilarious.
"The people are invested in it," the director explained. "They've bought into the story and the script and they are breathing life into the characters that have been created."
White said the cast cares deeply about telling the beautiful story.
"They understand the connection between each other."
Written by Carol Murray 25 years ago as a fundraiser for the Alzheimer's Society of Sarnia-Lambton, the play languished in a drawer for 10 years before being resurrected by Carol's son Matt Murray. He rejigged the play and submitted it to the Toronto Fringe Festival where it had a successful run in 2011. 
"Carol likes to say she provided the cake and Matt provided the icing," White said, noting the story is one that's continued to evolve.
'Remember, Maggy?' is being presented by Theatre Kent and is the title sponsor is Wallaceburg's Glasstown Brewing Company. The production will hit the stage for three performances at the Kiwanis Theatre in Chatham Feb. 10 and 11.
For ticket information, contact the Capitol Theatre or go to cktickets.com.