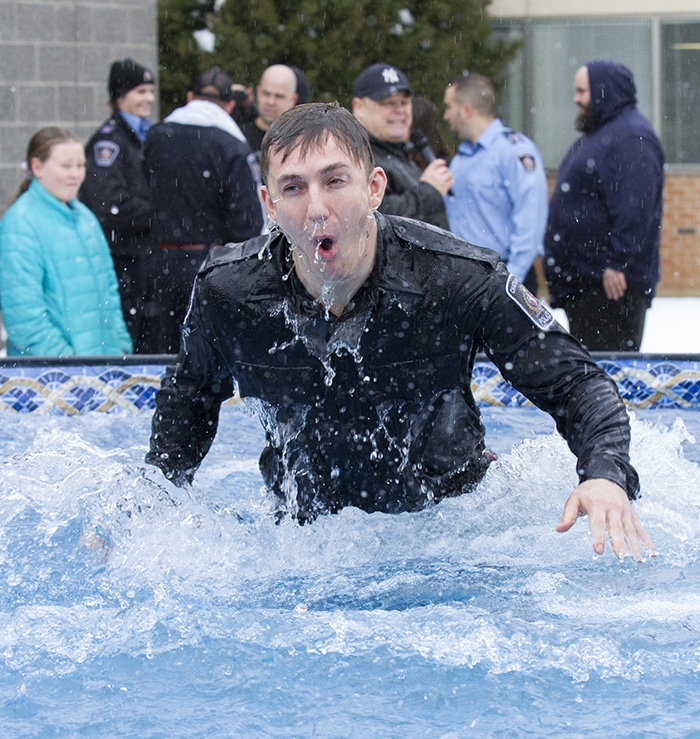 By Pam Wright
Local Journalism Initiative Reporter
It's time for Chatham-Kent residents to be freezin' for a reason.
They'll get their chance soon enough. Live and local, the sixth annual Polar Plunge is set for Jan. 21 at Sons of Kent.
"The last two events have been held online," said event co-ordinator Jason Herder. "Now that we're coming back in 2023, we're hoping to make a big, bold splash."
Herder, a sergeant with the Chatham-Kent Police Service, organizes the event to help raise funds for 16,000 Special Olympics athletes across Ontario. He's also heavily involved in putting together the Law Enforcement Torch Run for Special Olympics, another important fundraiser.
The money benefits athletes on many levels, Herder said, funding individual programs, training and other forms of assistance. Although funds are collected by the provincial agency, money returns to Chatham-Kent to pay for "anything we need," Herder explained.
Chatham-Kent's Polar Plunge has brought in some handsome numbers in the past. At the last live event in 2020, the plunge brought in $46,310 – the third highest tally in the province.
"We get great support from our community, both in participation and donations," Herder noted. "I can't say enough about how generous the Chatham-Kent community is in supporting our event.
"It speaks volumes."
This year will also be special in honouring former C-K police officer Mike Currie who passed away in 2022. In his memory, the Chatham-Kent Police Services Board will be making a $3,000 donation to the cause. Currie was an instrumental volunteer and was inducted into the Special Olympics Ontario Hall of Fame in 1992. He was also one of the most successful fundraisers for the torch run in the entire province.
Two deep freeze sittings will be held at this year's Polar Plunge event at 2 p.m. and 8 p.m. Organizers are looking for individual and team participants brave enough to take the dunk and pitch in. The cost to enter is $30, however if an individual brings in more than $75 in donations, the entry fee is waived.
Plus, anyone contributing more than $10 will receive an automatic tax receipt.
All of the necessary information regarding the event can be found online at polarplunge.ca.