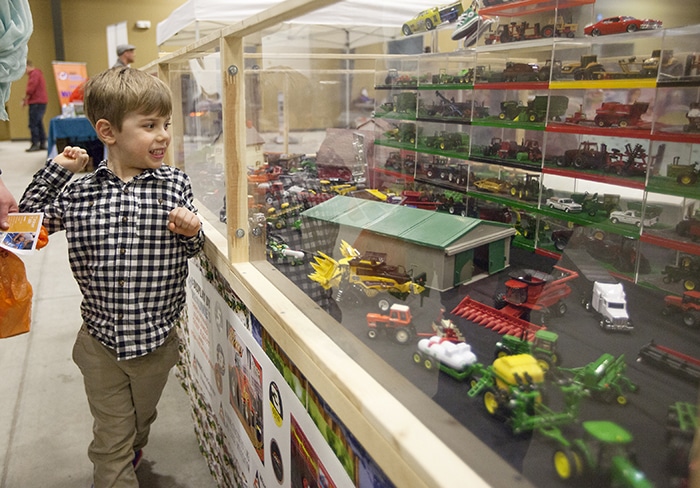 The Chatham-Kent Toy Show and Sale returns Jan. 15 with a bang, a ding, a clink, a click and a clunk.
It's the show's 20th anniversary, and it's back after a two-year hiatus due to the pandemic.
Organizers can't wait to open the doors at the John D. Bradley Convention Centre to the public.
"We're really looking forward to this. The last time we did this was actually early 2020," Rob Sterling, one of the event organizers, said.
He added that interest from vendors has been solid. In fact, there will be more than 140 tables set up at the venue, with 30-plus vendors showcasing their items.
"The response so far has been incredible. Everybody is eager to get out and take part in these events," Sterling said. "We have everything from play toys to highly collectible items."
Those include farm toys, model trains and accessories, sports cards, other collector cards, die-cast vehicles, construction toys, model planes, model ships, books of all kinds, dolls, plush toys, games, coins, vintage toys, Lego, collectibles and more – items for all ages.
Interest from new vendors has continued to grow.
"Every year, we set up the room to accommodate however many people we have coming in. The numbers so far are good. They keep rolling in," Sterling said.
People come from as far away as Toronto and Michigan.
Sterling said the show continues to grow and gain interest with the public as well.
"I think over the 20 years, we've expanded it and tried to add things that we thought would be of interest to a pretty broad crowd," he explained. "It is certainly a family-focused event. There's something relevant from 0-99, whether you are a kid or a kid at heart."
Those displays and events include the Home Depot Kids' Workshop, which runs from 11 a.m. to 1 p.m. Children can work with their hands on a project they can take home when they're done.
The Chatham Aeronauts will set up a flight simulator and will have displays of remote-controlled aircraft and boats.
The Kent Coin Club, local 4-H Toy Club and the Lambton Farm Safety Association are among other groups with displays.
The show in 2020 was the largest yet, and organizers are hopeful to top that level this year. Coupled with the fact the show has been on hold for two years, organizer Julie Sterling said the January timing works well.
"It's an activity. It's January. It's been quiet and people want to get out and do things," she said. "I also think the hobby has grown over time. There's an interest in a lot of different things."
Proceeds from the event go to the Chatham-Kent 4-H Farm Toy Club and Outreach for Hunger food bank.
The show runs from 10 a.m. to 3 p.m. Admission is $5 for adults, $2 for students and free for children aged six and under.