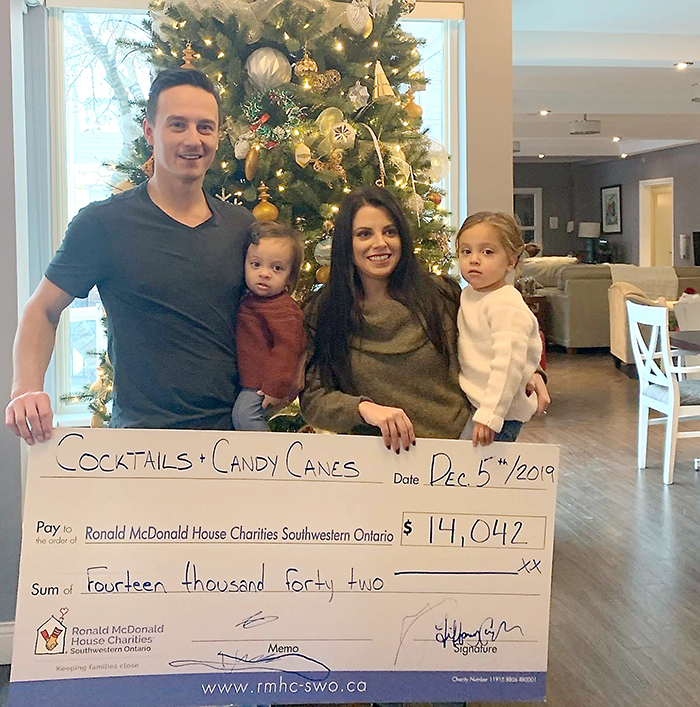 A pre-Christmas evening of fine food and fundraising is on the menu Dec. 17, with Ronald McDonald House (RMH) targeted as the beneficiary organization.
Organized by Prem's Tiffany Cunningham and her husband, Wes,, Cocktails and Candycanes will take place at  the Everest Convention Centre (formerly Club Lentina) and will feature a happy hour including appetizers and cocktails, a four-course meal, a DJ and dancing, a photo booth and pictures with Santa.
The Cunninghams are parents to two daughters who were born prematurely, and part of their experience included a stay at RMH in London, Ont.
Tiffany said the organization supported them during a challenging time, and they've been committed to giving back ever since.
"Both our daughters were born prematurely at 29 weeks. Aria in Tulsa, Okla. and Ella in London," Tiffany said in a media release.. "Following Ella's birth, we were fortunate to call RMH London our home for the 71 days she spent in the NICU. We were so grateful for our stay there as it allowed us to be close to Ella while she fought her fight, and we were also able to connect with many other families, all going through challenging situations."
Overwhelmed with gratitude from the outpouring of support from Ronald McDonald House London, and the local community of Chatham-Kent, Cunningham knew she had to find a way to give back.
"I'll never forget how supported Wes and I felt during that time. It takes a village to raise children, and our village rose to the occasion," she added.
From a family with deep roots in the restaurant and entertainment industry, Cunningham had the idea of hosting an evening event that would give back to those who had supported her and her family.
"I started planning the event during Ella's stay in the NICU, and we hosted our inaugural Cocktails and Candycanes event the day she was able to come home, making it even more special," Cunningham said.
In 2018, the event raised $10,000 for the RMH London; in 2019, more than $14,000 was raised. The Cunninghams have big goals this year and have committed to trying to raise $15,000 at this year's event and are asking the local community to help make this happen. To purchase tickets or donate a prize to the silent or live auction, you can email cocktailsandcandycanes2022@gmail.com and follow the event on Instagram for the latest updates.