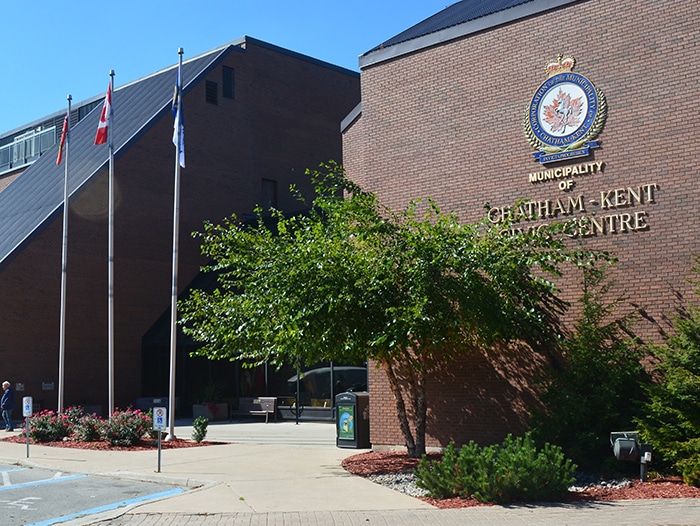 By Pam Wright
Local Journalism Initiative Reporter
Chatham's distinctive Bleak House will continue to play a significant role in history as home to an urban Indigenous hub.
On Oct. 3, council approved a zoning amendment that recognizes the King Street West heritage residence as a private club, allowing for a home occupation that can operate outdoors.
Faith Hale, who co-owns Bleak House with partner Ken Wright, said the amendment allows the hub initiative to go forward with its mission of bringing awareness and healing to all of society, not only to Indigenous people.
"The aim of Bleak House is to educate and inform," said Hale following the council meeting, with a focus on education and training.
"People need to be immersed in native culture to understand traditions," Hale explained, adding the hub has provided learning opportunities with the Chatham-Kent Health Alliance, the Chatham-Kent Police Service and the municipality.
Hale said the hub also stands to help the "invisible population" of the urban Indigenous in Chatham-Kent, a segment that's been traditionally underserved despite the fact that Indigenous people make up four per cent of Chatham-Kent's population.
According to Hale, adjacent communities in Windsor and Sarnia-Lambton have fewer Indigenous residents but offer more services, such an Indigenous friendship centres.
As executive director of Ska:na Family Learning Centres, with two locations in Chatham-Kent and outlets in Windsor and Sarnia, which provide childcare and other services, Hale understands the significance of truth and reconciliation.
"The land here belongs to Mother Earth," Hale told The Voice. "It was cared for by beautiful, kind, loving people that were here before European contact. Chatham needs to think about that as a whole."
The zoning amendments allows for five employees to be on site, including residents.
Council received 10 deputations on the matter with most in favour of the zoning change. However, some nearby residents expressed concern the change would result in inadequate parking and additional noise and traffic complaints.
A motion put forward by Chatham Coun. Michael Bondy to delay the decision to allow for a public meeting with neighbouring residents was defeated.
Chatham Coun. Brock McGregor said the work going on at Bleak House is positive, noting there was no reason to defer.
"We should get going on this great project in Chatham-Kent tonight," McGregor stressed.
In his remarks, Wallaceburg Coun. Aaron Hall reminded everyone that National Truth and Reconciliation Day was only three days prior, adding that approving the amendment is a way to put truth and reconciliation into action.
"I think it's important to not defer and vote for it this evening," Hall said.
Planning consultant Tom Storey, who acted on behalf of Hale and Wright, said the Bleak House project is positive on many levels, noting there has been plenty of consultation between the planning department and his clients.
"I've rarely been involved with one that I've thought so highly of," Storey said.