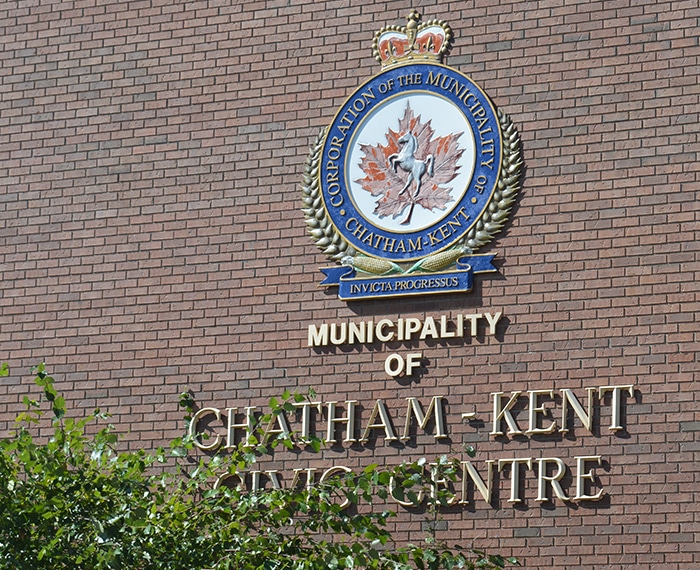 By Pam Wright
Local Journalism Initiative Reporter
& Bruce Corcoran
bruce@chathamvoice.com
With six separate appeals looming, Chatham-Kent council is taking a second look at its new development charges bylaw.
At its Sept. 26 meeting, council voted to further engage with local stakeholders on the issue and report back to council within 90 days.
The motion, put forward by Chatham Coun. Michael Bondy, received unanimous approval.
Initially, Bondy asked council to reconsider the bylaw, which the elected body had approved Aug. 8. The bylaw adds an additional $17,316 to the cost of building the average single-family home.
A deputation on the matter was also received from the Chatham-Kent Homebuilder's Association and read out at the meeting. In it, executive officer Dan VanMoorsel called the fee hike an "unexpected" burden. 
"This is a dramatic increase that's placed on the back of future residents," the deputation stated, adding municipal consultation with stakeholder developers was minimal.
"We believe that more direct engagement could have occurred during the initial consultation process," it said, noting the "true" cost of building a home is actually $23,632 when all development fees are factored in.
A lengthy discussion on how the bylaw could be reconsidered took place, with Chatham-Kent legal director Dave Taylor seeking clarification from Bondy, and others, on what "revisit" meant.
CAO Michael Duben advised council that once an appeal is filed, "the process is underway."
But he assured council the municipality would reach out to the appellants, adding there's "always an opportunity to discuss settlement if the parties are willing to do so."
Bondy said he's spoken with the appellants and they are willing to engage with the municipality, adding he thinks there can be some "constructive dialogue."
Bruce McAllister, general manager of community development for Chatham-Kent, told council the bylaw would remain in place with fees charged accordingly, but the money could be reimbursed if the bylaw is changed.
Local realtors comprised one group that was not impressed by the development charge change in August.
Amber Pinsonneault, president of the Chatham-Kent Association of Realtors (CKAR), said adding more than $17,300 to the price of a new home right now is a bad decision. The real estate market has slowed, and prices are actually in slight decline, but this would force the price of new homes upward, and could actually kill some sales that have already been agreed upon.
"There are many new homes sold earlier in the year that are yet to be built. With the implementation of development charges in Chatham-Kent, we could jeopardize the buyers' ability to close (the sale,)" she said. "With interest rates rising and $17,300 introduced for development charges, a buyer's initial cost will be increased potentially beyond their means."
Robb Nelson of Maple City Homes said the added charges would be passed directly onto homebuyers and could kill off a key attraction to out-of-towners on why to move to Chatham-Kent.
"Our advantage over everyone else was we had less expensive land and no development charges," he said. "People would see it being cheaper to move to Chatham-Kent and they'd move here."
However, Chatham-Kent may not have as many amenities as other neighbouring municipalities, Nelson said. And with prices closer in comparison to those neighbours, he fears fewer people will opt to settle in C-K.
"The decision is suddenly not so easy. We don't become as attractive," he said.
West Kent Coun. Mark Authier said he has received calls from builders and developers in his ward protesting the new charges, pointing out they had signed contracts with customers when the new bylaw came into effect.
Authier said council should have chosen a future date for implementation, instead of the bylaw coming into effect the day after the vote.
Nelson questioned the initial rollout that seemingly caught most key players off guard.
"The real estate board wasn't consulted. The C-K Home Builders Association wasn't consulted. Those are the two main streams that shape your new home market. (Consultation) should have happened, especially when we were on that nice roll," he said.
Pinsonneault said she sees the logic in the proposed charges. It's just that now is not the time to make such alterations.
"In the heat of the market, it wouldn't have made a difference. It just seems they kind of missed the boat," she said. "Adding an additional hoop to jump through when times are tough, that's very strange timing from the municipality."
Nelson said the development charges caught his company by surprise. Dialogue took place two years ago, but nothing recently.
"They asked us and others about development charges. They wanted to know more information," Nelson said. "Good infrastructure is important. I was 100 per cent for it. But I never heard anything more. Then all of a sudden, they hit. They never contacted the stakeholders over the past two years."
East Kent Coun. Steve Pinsonneault, who spoke against the bylaw in August, told council he knew it "wasn't going to be good for business." He agreed with Bondy, adding he hopes the two sides can find "middle ground.
"I knew this was a boo boo in the beginning and I think it's only going to get worse," he said.  
After back-and-forth discussion, council directed administration to engage with stakeholders who have raised appeals, and return to council with recommendations for future changes within 90 days.
With the appeals handed into the municipality, Nelson hopes positive changes come about.
"I hope they'll look for a better way of rolling this out," he said. "To increase the price of a home by eight or nine per cent, plus the increase in interest rates, that's not a good model at this time."