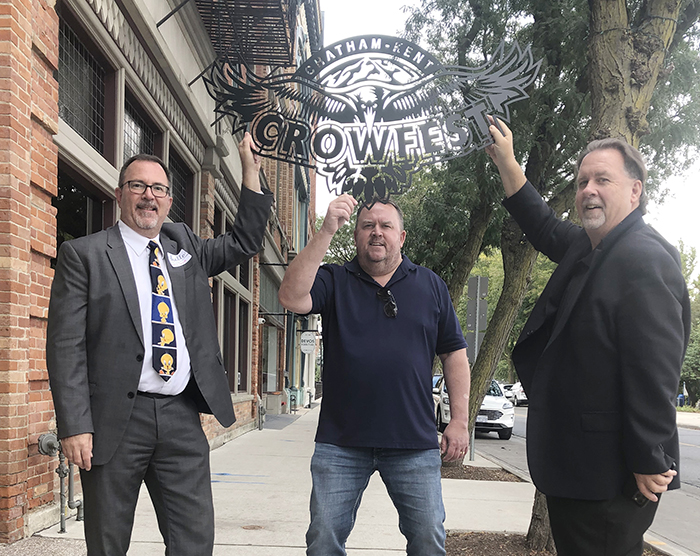 By Pam Wright
Local Journalism Initiative Reporter
Get ready – it's almost time for Crowfest to fly into downtown Chatham.
The event, paying tribute to the oft-maligned black bird, is set to take place Oct. 12-15.
The four-day extravaganza will feature world-class buskers, a premiere costume contest, a dressed-up King Street and a Chatham night market.
Sword swallowing, music, magic, art classes, "Dueling Pianos" and a Crow Your Boat race down the Thames River are also on the agenda.
There will be a free showing of Alfred Hitchcock's The Birds at the Capitol Theatre.
A special media conference to outline Crowfest took place at Retro Suites last week with event co-chairs Andrew Thiel and Mayor Darrin Canniff crowing about the event.
A couple of decades ago, Crowfest wouldn't have happened. Regarded as dirty pests, crows were chased out of Chatham, with the municipality spending thousands on crow control.
Times have changed and upgrades to garbage containers have lessened the crow problem.
Those old ideas aren't stopping enthusiasm surrounding the event.
 "We want everyone to come downtown and have some fun," said Thiel. "We're really looking forward to seeing King Street come alive", noting the Friday and Saturday night markets are the first night celebrations, aside from the Santa Claus parade, on King Street in nine years.
"It seems to be easy to get everyone excited," Thiel added.
 With numerous big-name sponsors on board, the estimated budget for the event is $150,000, with the majority going towards entertainment and prizes.
While some of the events cost money, such as the $100-a-plate charity gala Oct. 13, Thiel said organizers are trying to offer as many free or low-cost activities as possible. 
The gala will feature a world-class hypnotist, with proceeds going to Big Brothers, Big Sisters, Community Living Chatham-Kent and PAWR.
A wide array of buskers coming from as far away as Ireland and Australia will be front and centre on Friday and Saturday. Free family-friendly shows will be held on the evening of Oct. 14, and throughout Oct. 15. 
An adult busker show will be held the evening of Oct. 15 at the Crowbar behind the Sons of Kent. Cost is $10. 
Thiel said the various buskers will help spread the word about Crowfest as they have a combined social media presence of around two million followers.
Tecumseh Park will also feature an array of performers and vendors. 
The prizes for the various contests are something to crow about. Winner of the Squawk the Block best-decorated business contest receives $1,000, and the prize lot for the all-ages costume contest is $13,000, with first place taking home $5,000. 
There will be extra points for costumes that are crow themed, Thiel said.
Canniff said the costume contest is generating a lot of interest and folks from the GTA have already registered.
"We hope to make this a regional event," Canniff said. "That's what we're looking for is to put this event on the map."
Canniff said the festival aims to pay homage to the clever crow, while also capitalizing on the fact the festival is close to Halloween.
The committee is also looking for volunteers to help with the event. To see a full list of events, buy tickets or to volunteer visit the http://www.crowfestck.com webpage online.