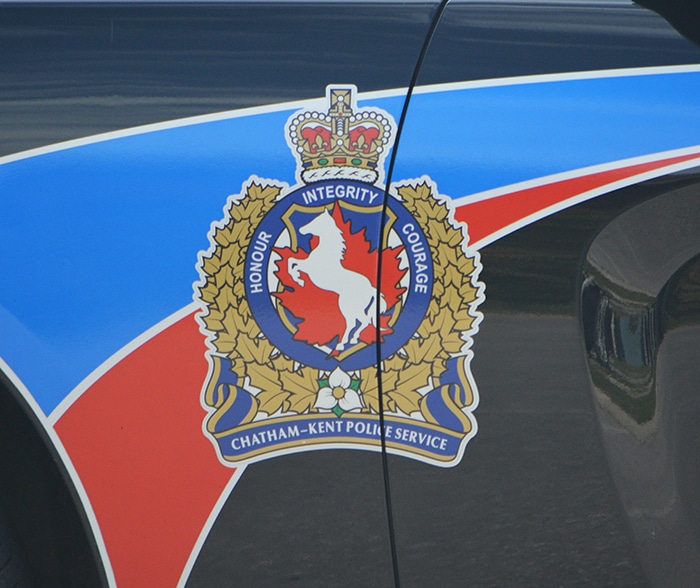 Cruiser clipped on Scane Road
On Monday morning, shortly before 2 a.m., police responded to a break and enter at a home under construction on Scane Road.
When Chatham-Kent police arrived, the suspect fled in a vehicle, striking a police cruiser.
Stolen from the residence was a Stihl chainsaw and an estimated 500 litres of gasoline.
Police would like to remind the public if you have any information regarding this incident or any other incident, call Crime Stoppers at 1-800-222-TIPS (8477). You can remain anonymous and may be eligible for a cash reward.
Out standing in a cornfield
A Windsor man faces charges after someone got into a solo fender bender on Sunday morning.
Chatham-Kent police say they got the call shortly after 8 a.m. and arrived on the scene to find the vehicle, but no driver.
Officers located the driver hiding in a nearby cornfield, police say.
A 40-year-old Windsor man faces charges of failing to report a collision and careless driving.
Breach of release conditions
On Sunday evening, shortly before 11 p.m., police responded to a disturbance at a residence on Bruce Street in Wallaceburg.
While officers were investigating, a 43-year-old Wallaceburg man who is on house arrest jumped out of a window to the residence, breaching his house arrest, police say.
After a short foot pursuit, the Wallceburg man was arrested, transported to Chatham-Kent Police Headquarters and held for bail.