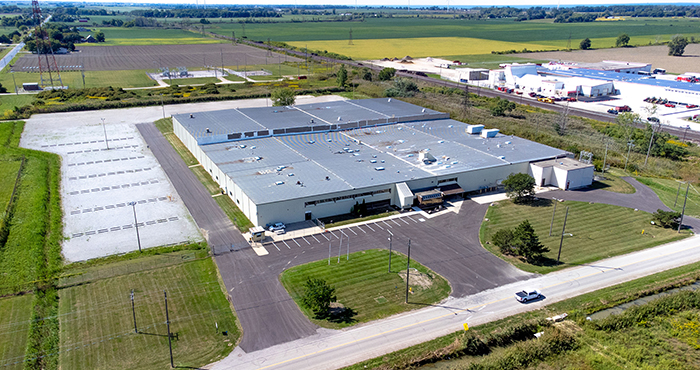 Tilbury will soon be home to a new industry, and that could mean as many as 100 new jobs.
Chatham-Kent ultimately didn't land Magna International earlier this summer, but municipal economic development officials announced that United Industries Inc. will start setting up shop in Tilbury this month in the former Woodbridge Foam building on Queen Street North.
According to municipal officials, United is a world leader in precision-engineered stainless steel tubing.
The Tilbury location will be the first of its kind in Canada.
Work on this state-of-the-art production environment is already underway, as the company is to take over a currently unoccupied manufacturing space this month.
United Industries, Inc. is the only North American manufacturer of high-purity stainless steel tubing in the 1-inch to 8-inch diameter category, municipal officials said.
Manufacturing will begin once the factory installation is complete.
The hiring process will take place in phases. But once the facility is up and running, it is anticipated it will generate as many as 100 local jobs.
United Industries officials have also shown an interest in sourcing third-party labour, such as tool-and-die, machining, and trade work from local employers, which would increase the economic impact of this investment.
Greg Sturicz, president of United Industries, Inc., said in a media release he's looking forward to establishing operations in Tilbury.
"We are extremely pleased to be joining the Chatham-Kent business community and very appreciative of all the support we have received from Mayor Canniff and the entire region," he said. "We chose the Chatham-Kent area for this key expansion due to its outstanding local workforce along with your civic leaders' willingness to create a strong business partnership."
Jamie Rainbird, manager of C-K economic development, said the success in seeing United come to Chatham-Kent is due to the effort on three fronts.
"This is a fantastic example of successful collaboration between a business, municipal administration, and the economic development team," he said. "United Industries Inc. is an exciting development for the future of Chatham-Kent, and we will continue working hard to support them as they expand their business."
The firm has invested in new machine technology that will allow development of the processes to make tubes from 10-inch to 16-inch diameter, which are poised to be the largest high-purity tubing diameters in the world.
The tubing to be produced is best-in-class laser-welded and will meet the rigorous demands of the most stringent production environments, according to a municipal press release.
Some applications are extremely sensitive, such as in the food and beverage, pharmaceutical, and biotechnology industries and require the highest level of purity.
Rainbird told The Chatham Voice the company had certainly done its homework in site selection.
"They first reached out to me in early May. They had pretty much found their location after having done an exhaustive search," he said. "As their first foray into Canada, they were looking for information on a variety of fronts. Our job was to be the first point of contact and to make sure they got all the resources they needed put in front of them."
Rainbird said the contacts at United were great to work with throughout the process.
"From the day we first met them, they have always stressed that they strive to be an employer of choice. I can tell from the many months of dealing with them that I can understand why," he said. "They are absolutely fantastic people to deal with. It's been a pleasure every step of the way.
United Industries, Inc. is a subsidiary of the multi-generational, family-owned business United Stars Inc., which was founded in 1936. Known as an employer-of-choice, the firm is headquartered in Beloit, Wisconsin, and is owned and operated by Roger West, the company's Chairman and CEO. To learn more, visit the United Industries website.