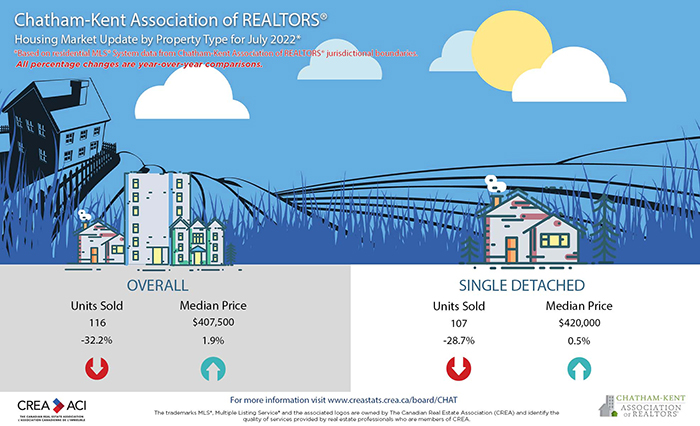 Home sales rebounded somewhat in July in Chatham-Kent, but they remain down significantly from the same period a year ago.
A total of 116 units changed hands in July, down more than 32 per cent from July of 2021. However, just 101 units sold in June, which was down nearly 46 per cent from the same month a year ago.
Amber Pinsonneault, president of the Chatham-Kent Association of Realtors (CKAR), said the market is "rebalancing" itself, and higher interest rates and market uncertainty have had their impact.
She added buyers no longer have to operate at a frenetic pace, which was the case for the past several years, as a house came on the market and was scooped up in a matter of days, often with a bidding war, and often at over asking price.
That's changed.
"It really is providing more opportunities for home buyers, first-time buyers in particular," Pinsonneault said. "And sellers are still getting great value for their homes. They're not getting the astronomical prices they were seeing earlier, however."
She said the high point was back in February and things have been tailing off or at least flat-lining in terms of pricing ever since.
"In July, we were back up to just under $500,000 for our average (home price). That's a 20-per-cent increase from last July," she said.
More importantly, the local market isn't experiencing a large price shrink that has hit much of the rest of the province.
"Chatham-Kent is not seeing these crazy decreases in prices like some places are," she said. "To come down under $500,000 here really gives more people an opportunity to get into the market."
Plus, they're able to get in on their terms. With bidding wars, people often took the first house that came into their price range.
"We're seeing offers with conditions on them. I think that allows for confidence for the purchaser," Pinsonneault said. "You want someone to love the house they are purchasing. This (market) allows people to firm up their financing, get a home inspection and be happy with what they are purchasing."
While prices and the number of homes sold may be down, what is on the rise is inventory. Slower sales and more market confidence have led to added homes on the market. And they may remain on the market for a longer period of time now that the buying frenzy has relented.
CKAR numbers indicate there were 271 new residential listings added in July. That was the largest number of new listings for a July in history for C-K.
Pinsonneault said in the past with the brisk sales, people may have wanted to sell, but were worried about finding a new home.
"The big question from last year was, 'If I'm selling, where am I going?' Now, there is an opportunity to find another home," she said.
Overall, Pinsonneault said the market pendulum has reached neutral rather than tipping in favour of the buyer, and that's good for everyone.
"It's not a buyer's market. It's a balanced market. It's just giving people a chance to get in and look at a few houses," she said.
And while the influx of out-of-town cash has relented to some extent, it has not dried up.
"Chatham-Kent remains an affordable place to purchase. I don't see that changing any time soon," Pinsonneault said. "People love what Chatham-Kent can offer."