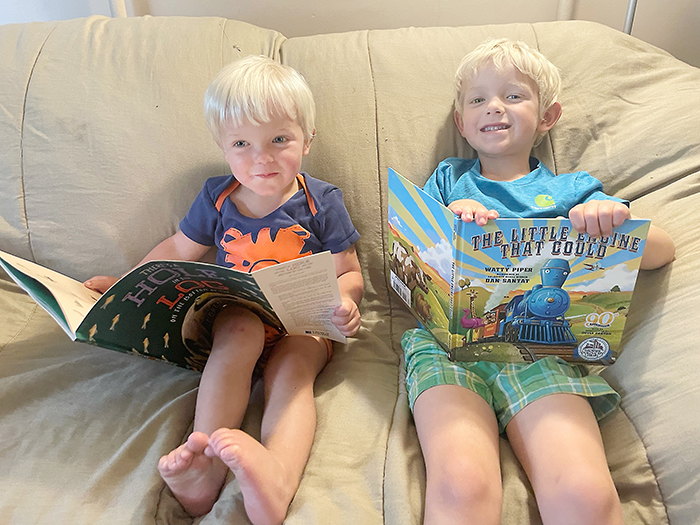 Thanks to a pair of local grants, the Kiwanis Club of Chatham is expanding one of their literacy programs.
Since the beginning of the year, the club has teamed up with Dolly Parton's Imagination Library.
The program is intended for children from birth until their fifth birthday.  Once children are registered, an age-appropriate hardcover book will be mailed to them every month at no cost to the family, according to Kiwanis member Chuck Scott.
The program was an immediate hit locally.
"We set our target at 50. We got there so quickly, we said we could handle 100," Scott said, adding they hit that in three months, "with no promotion."
Now, thanks to grants from Chatham-Kent Community Foundation and South Kent Wind Community Fund, the Kiwanis can expand the program. They plan on more than doubling their numbers and offering it to any young child in Chatham-Kent,
"We started within Chatham and were restricted to Chatham postal codes," Scott said. "With the new funding, we're now able to expand across Chatham-Kent."
Scott said working with the Imagination Library just made sense for the local club.
"We've had a focus on children's literacy for a number of years now. We have worked with a number of elementary schools, acting as reading buddies, working one-on-one with kids," he said. "And then COVID arrived."
The goal is to get more kids interested in reading at an early age.
"We're hoping to help kids have more of a focus on reading, and the hope is parents will spend time reading with them," Scott said. "It helps better prepare them for when they come to school. And reading is so important. It's such a fundamental requirement for kids to be successful."
Parton's Imagination Library is an international affair. Scott said the organization sends out about two million books each month.
About 40 per cent of the hardcover books sent out by the Imagination Library are either written by Canadian authors, have images from Canadian illustrators, or are from Canadian publishers.
The list of books distributed is updated every year. The current list can be found at https://imaginationlibrary.com/ca/book-list/
The books sent out to the children are age appropriate, Scott added.
To register your child, check the Kiwanis web page at https://www.chatham-kentkiwanis.com/imagination-library-online-registration/
If you're interested in making a donation in support of this program, that can be done online at https://donate.imaginationlibrary.com/#ca-ONCHATHAMKENT.  Charitable donation receipts are available.
For more information, call Chuck Scott at 519-352-0464.