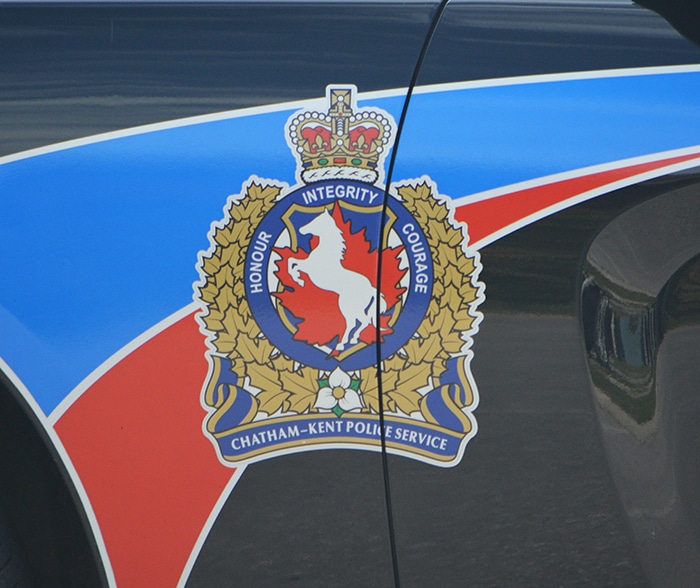 Mischief charges 
Shortly before 4:00 p.m. Wednesday, Chatham-Kent police responded to a mischief complaint on King Street West in Chatham.
Officers arrived on the scene and learned the man was observed tampering with machinery on a construction site, police say. Witnesses described the man and his direction of travel.
Police located the man a short distance away and arrested him on an outstanding warrant.
Through investigation, it was determined the man curt and removed wires from the machinery, causing significant damage, police say.
A 51-year-old Chatham-Kent man was charged with mischief. He was transported to police headquarters and held pending a bail hearing.
Threats
Shortly after midnight, police responded to a disturbance at a business on McNaughton Avenue West in Chatham.
It was reported the man entered the business and was confronted by an employee for theft.
The man verbally argued with the employee and threatened to harm them, police say.
Officers arrived and located the man.
A 31-year-old Chatham-Kent man was arrested and charged with uttering threats.
Warrant arrest
Early this morning, at 6:01 a.m., police responded to a suspicious person complaint on Barthe Street in Chatham.
While investigating, police observed the woman on Victoria Avenue. Police learned she was wanted on an outstanding warrant for mischief.
A 39-year-old Chatham-Kent woman was arrested and transported to police headquarters. She was released with conditions and a future court date.
Comments
comments