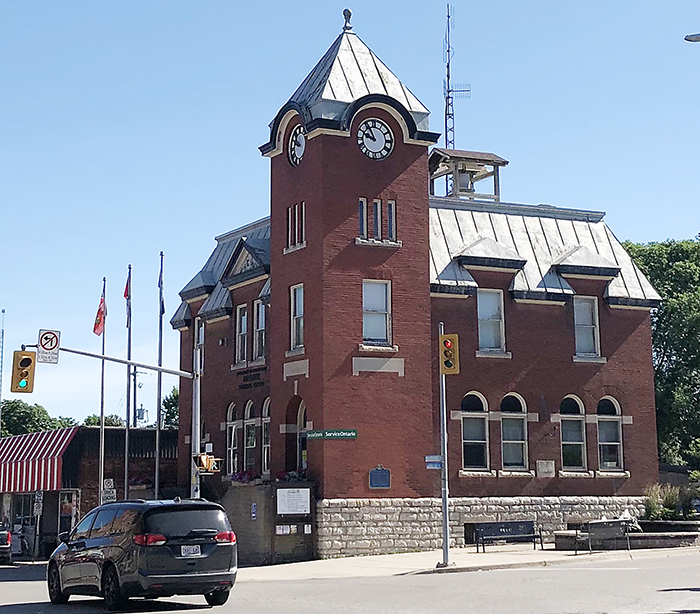 By Pam Wright
Local Journalism Initiative Reporter
Unless provincial funding is forthcoming or a new service provider is found, ServiceOntario outlets in Dresden and Chatham could be shuttered by the end of the year.
At a recent meeting, Chatham-Kent council approved a number of recommendations relating to a recent customer service review aimed at curbing costs at the municipality's service centres.
One of the approved recommendations directs administration to negotiate further extensions of the ServiceOntario contracts at both locations, only if the province commits to paying Chatham-Kent's "fully burdened costs" of $40,000 to provide the service in Dresden.
Administration has been directed to inform the province that Chatham-Kent will cease providing these services effective Dec. 31 unless an alternative is found.
The July 11 motion was approved despite council having received some 105 deputations speaking out against the proposed action at its June 20 meeting.
Because Dresden's ServiceOntario office operates out of the historic clock tower building, some fear it will lead to the sale of the iconic building, cited by many as the heart of the Dresden community.
The motion was approved by an 11-6 vote with Karen Kirkwood-Whyte as the lone Chatham councillor voting against the recommendation.
Other no votes included North Kent councillors Joe Faas and Jamie McGrail, Wallaceburg Coun. Carmen McGregor and East Kent councillors Steve Pinsonneault and John Wright.
Faas, McGrail and Pinsonneault spoke out strongly against a proposal that could result in the closure of municipal centres.
Pinsonneault said the recommendations create an "us versus them" rift between rural and urban Chatham-Kent and leaves seniors and people without computers behind.
He called the municipality's spending on ServiceOntario small compared to what it spends on assets such as the CASO Trail and the Capitol Theatre, adding the municipality spends money on those "without batting an eyelash."
Faas said the estimated $40,000 in savings seems "very minimal.
"It's small potatoes in comparison with the benefit ServiceOntario provides to these communities," he said, adding, "the public has spoken" through the many deputations.
However, Chatham-Kent communities will not be left without face-to-face services even if municipal centres are closed.
Following an amendment from West Kent Coun. Melissa Harrigan, council agreed there should be an in-person presence in communities where service centres are closed. Municipal help desks could be located in alternative spaces such as the libraries or arenas.
Council was in agreement that more services need to be digitized and directed administration to develop a sign-in portal to offer services online and to come up with an education plan to help citizens transition to the online process.
Several councillors agreed that it will take time before everyone is comfortable, or able to use digitized services.
Harrigan said it will be a "few more decades" before everyone is comfortable using digitized service, adding a face-to-face presence needs to be maintained.
Council also approved a plan for the closure and divestment of under-utilized municipal buildings, acknowledging those communities will have access to the municipal information desks if that happens.
That motion passed 10-7.
South Kent Coun. Clare Latimer, who put forth the customer service review idea in 2021, said she is in full support of the proposals in the review.
Municipal services may look different in the future, Latimer said, as they may be offered out of different buildings.
She said council is "beholden" to follow through on the recommendations to save money, adding "we have to change," noting COVID-19 has demonstrated the municipality can "proceed in a different way."
According to Cathy Hoffman, general manager of corporate services, the $40,000 in municipal subsidy costs relate only to the Dresden operation, not to Chatham.
The municipality's involvement in providing ServiceOntario services began when a private operator couldn't be found to provide the service in either Dresden or Chatham.
McGrail said she was disappointed by the outcome, saying she's "surprised by the lack of thought" regarding the downtown areas of smaller communities.
McGrail said the motion marks the "next step" towards the closure of the Dresden Municipal Centre which is located in her ward.
However, Mayor Darrin Canniff has stated that he will personally do what he can to make sure Dresden's clock tower building remains.
"Under my watch that building is going to stand proud and be equal to or better than it is now," Canniff said in a recent interview. "I won't support its closure."
However, Canniff did say online services need to be improved and that a better formula to fund the ServiceOntario centres needs to be developed.
"The province needs to sort that out," he added.
Canniff stressed that no final decisions have been made with regard to any closures, adding the municipal service centre matter and ServiceOntario are separate issues.
The Voice has reached out to both Lambton-Kent-Middlesex MPP Monte McNaughton and Chatham-Kent—Leamington MPP Trevor Jones.
A reply from the province stated the Ministry of Public and Business Service Delivery is in "close communication" with the Municipality of Chatham-Kent and "work is underway to ensure continued and sustainable service for the local community."
Chatham-Kent's current contract with ServiceOntario expires at the end of 2022.