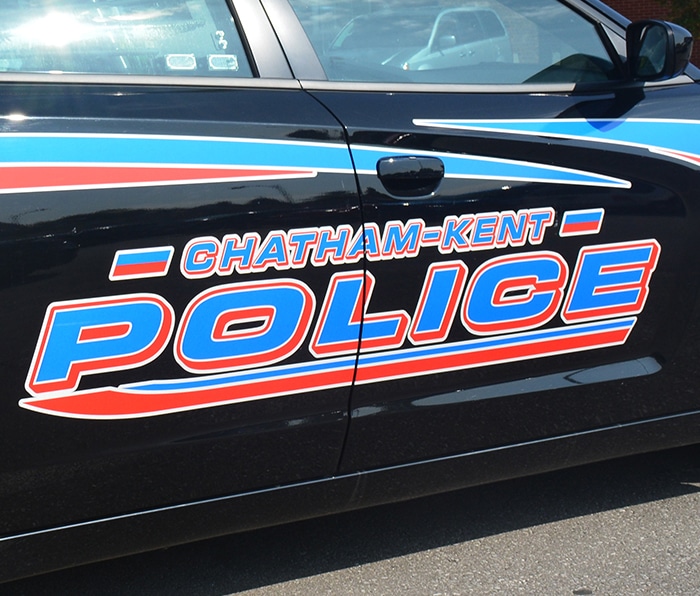 Drug raid in Wallaceburg
Chatham-Kent police and OPP teamed up Wednesday afternoon to raid a home in Wallaceburg, ultimately leading to one arrest.
Police say the raid took place on Fraser Street shortly before 4 p.m. Officers seized $4,700 in cocaine, methamphetamine, oxycodone and MDMA. A set of scales, packaging material and a large sum of Canadian currency was also seized.
Four people were found in the residence and arrested. Three people were released unconditionally.
A 60-year-old Wallaceburg man is charged with two counts of possession of a controlled substance for the purpose of trafficking and two counts of possession of a controlled substance.
Near miss leads to impaired charge
Chatham-Kent police say a car nearly drove into a police cruiser early this morning near Blenheim.
An officer, while on patrol on Gore Road about 1:30 a.m., saw a vehicle approaching. It then swerved into the officer's lane, forcing the cop to brake to avoid a collision.
The officer pulled the vehicle over and believed the driver had been drinking. He was arrested and transported to the Ontario Provincial Police station for a breath test.
A 42-year-old Harwich Township man is charged with having a blood alcohol concentration exceeding the legal limit.
No telling where this Telluride is
This morning, a white, 2021 Kia Telluride was reported stolen from Stanley Avenue in Chatham.
The vehicle was last seen with Ontario license plate #BWNS052.
The vehicle has chrome rims, tinted windows, and a cracked windshield. A pink/purple specialized child's car seat was in the backseat.
Anyone with information on this incident is asked to contact Const. Alena Fiala at alenaf@chatham-kent.ca. Anonymous callers may call Crime Stoppers at 1-800-222-TIPS (8477) and may be eligible for a cash reward.
Comments
comments