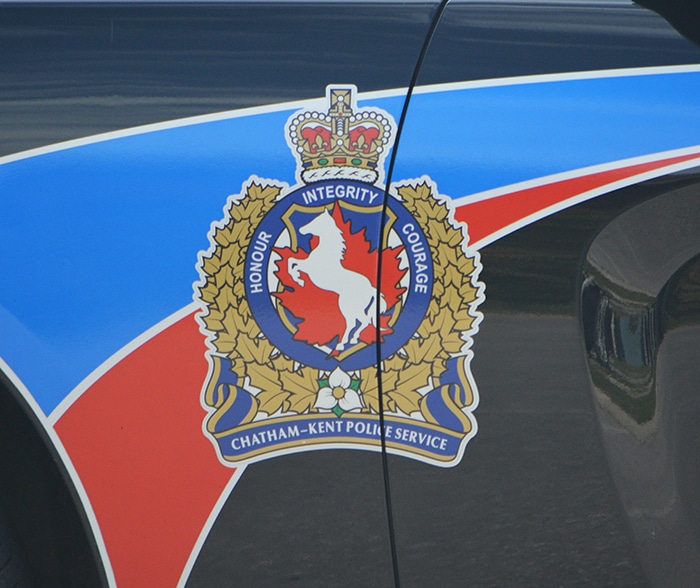 Flight from police
Chatham-Kent police say officers attempted to pull over a vehicle last night, only to have the driver refuse to stop.
On Wednesday evening, shortly after 10 p.m., police say they got a 911 call of a possible impaired driver.
Police located the vehicle and, through observation, the officer believed the man was driving while under the influence.
The officer attempted to initiate a traffic stop; however, the vehicle did not stop. Police conducted an emergency stop manoeuvre to stop the vehicle.
The accused was arrested and transported to police headquarters where a Drug Recognition Expert conducted an evaluation.  As a result, the DRE officer believed the man was impaired by a drug.
Through investigation, police learned the accused was also prohibited from driving and suspended from driving for medical and remedial reasons.
It was also learned the accused was breaching two conditions from a previous release order.
A 39-year-old Chatham man has been charged with flight from peace officer, operation while impaired by drug, operation of a motor vehicle while prohibited, two counts of suspend drive, and two counts of fail to comply with release order. He has been held in custody pending a bail hearing.
Theft leads to arrest
On Wednesday morning at approximately 9:45 a.m., police attended the area of Grand Avenue West in Chatham in response to a theft from a store.
A woman was observed stealing a number of items and exiting the store without making any attempt to pay, police say.
Officers located the accused in the area and the stolen property was returned to the store.
A 35-year-old Chatham woman was arrested for theft and possession of stolen property.
Fence fracas
Yesterday evening police received a call regarding a dispute between neighbours in Chatham involving a disagreement over the removal of a fence and cutting of tree branches.
Police advised the parties to proceed with property line location or refer to the Line Fences Act.
The Chatham-Kent Police Service would like to remind members of the public locating of property lines is the responsibility of the property owner through the use land surveyor.  The Line Fences Act can also provide more information and provides a dispute resolution procedure to be used between the owners of adjoining properties.