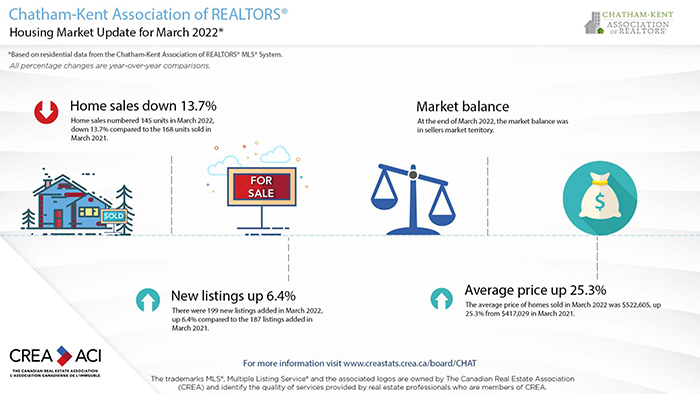 Home sales in March remained brisk in Chatham-Kent, but were down from the record-setting pace of March 2021.
What's more, there are more homes for sale in the market.
According to figures from the Chatham-Kent Association of Realtors (CKAR), 145 properties changed hands in March, down nearly 14 per cent from March 2021.
Still, that was nearly 16 per cent above the five-year average and nearly a third better than the 10-year average.
So far in 2022, 371 units have sold, down nine sales for the first three months of 2021.
The slowing market doesn't worry Amber Pinsonneault, president of CKAR.
"Home sales continued at a strong pace in March, down from last year's astronomical record but still coming in well above all other years on record," she said in a media release."
The price sellers are getting for their homes continues to rise. CKAR figures indicated the average price of homes sold in March 2022 was $522,605, up by 25.3 per cent from March 2021.
So far this year, we've seen the average price hit $507,600, up more than 29 per cent from last year.
Despite seeing fewer sales, the heightened home price per sale meant the value of properties sold – $75.8 million – set a new record for the month of March.
New listings rose by a dozen properties compared to March of last year. In fact, the number of new listings – 199 – was the largest increase in a March in a decade.
"We've finally got some much-needed relief on the supply side in the form of new listings, which we're hoping to see even more of as we enter the spring market," Pinsonneaul said. "Despite the surge of new supply in March, overall inventories are still hovering close to the lowest levels in history, which suggests that most of this additional supply is getting absorbed by home buyers who have been waiting for a greater availability of listings."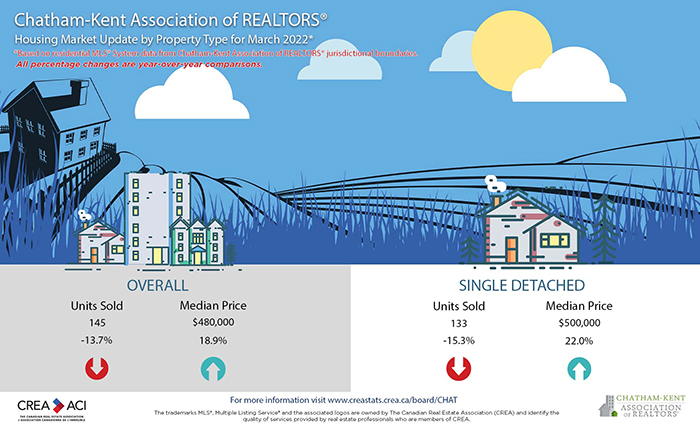 Comments
comments