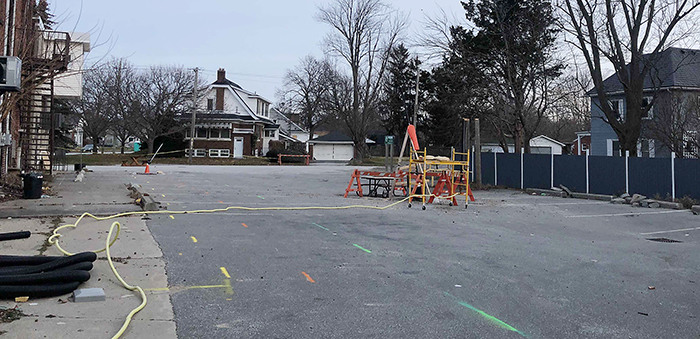 Wheatley residents learned on Saturday that the evacuation zone in their community, in place since a gas explosion in August of last year, is finally being reduced.
More than 190 residents took part in a public meeting on the municipality's Facebook page. 
 A map showing the new evacuation zone boundaries can be found on Let's Talk Chatham-Kent/Wheatley-Updates.
Investigation and remediation work will continue in the new smaller evacuation zone. Restaging of fencing to the new evacuation zone will begin April 13 beginning at the north-west corner of the evacuation zone, moving clockwise around the zone. 
This restaging of fencing to establish the new evacuation zone is anticipated to take a day or two. 
All residents and businesses that will have access to their properties outside the evacuation zone should reach out to their insurance companies and discuss next steps, municipal officials said..
Reactivation of utilities must occur before occupancy. Utility companies will be working with residents to ensure a smooth reactivation process. 
For owners of properties that remain in the evacuation zone, municipal officials said they would try to accommodate limited access, but only to properties that are deemed safe to enter.  Access will be limited to certain periods of time when on-site conditions allow for it, based on the investigation work that is ongoing. 
Gas leaks began in early summer of 2021 in Wheatley, culminating with an explosion that destroyed two buildings in the downtown core in August. The evacuation zone was established after the explosion.
The Provincial Wheatley Resident Assistance Program will continue to provide assistance for temporary accommodations during renovations as required and for all households that remain evacuated.
If you would like assistance in completing a pre-inspection of your home, including an initial gas reading and visual inspection of your residence for visible hazards, you are advised to let your case manager know. They can be reached during business hours at 519-351-8573.
Economic development officers will be reaching out to businesses over the coming days to discuss their individual circumstances.
Officials said safety is the top priority for the workers on-site and the community. Air monitoring will continue to be conducted 24/7 in and around the municipal parking lot, on the perimeter of the evacuation zone and on mobile units. 
Residents must stay outside of the evacuation zone at all times for their safety.
Anyone can call 311 to get updates or answers to any questions.
Comments
comments