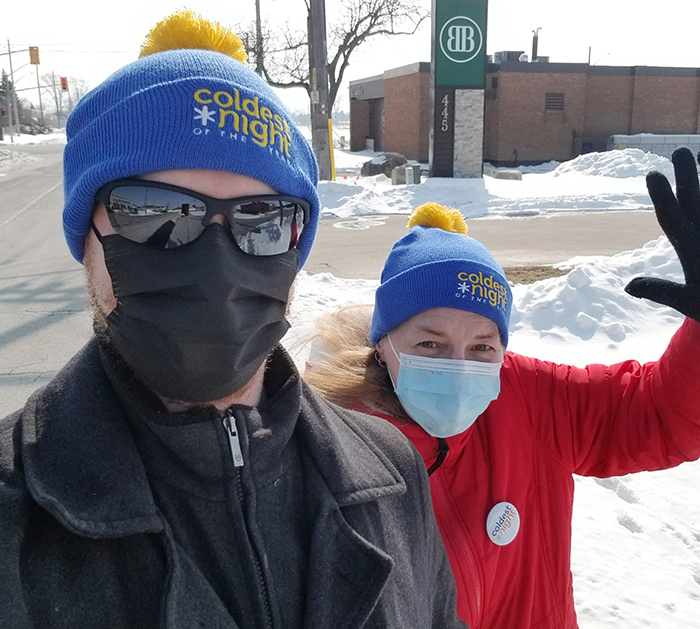 Get ready for a chilly walk by people with warm, giving hearts on Feb. 26.
In an ongoing effort to raise awareness of the plight of Chatham-Kent's homeless population, as well as assistance funding, supporters will trek in the Coldest Night of the Year (CNoY) event.
Al Baker, Chatham-Kent NeighbourLink Network co-ordinator, and organizer of the CNoY event locally, said participants have already raised $33,000 en route to the goal of $50,000.
Baker said more than 130 walkers have registered.
"We are still accepting donations and participants," he said. "More than 100 people have said they will attend in person, an option we didn't have last year."
The event, which Baker said has been taking place since 2017, is actually growing despite COVID-19.
Last year, it took place virtually, for the most part. Baker said he did show up to the start/finish area organizers had established, but he was the only one there, as participants opted to walk on their own time at their convenience.
"Last year, it was all virtual. Everyone walked independently. This year, we'll have a gathering, but it will still take place outside," he said.
In the past, where there was a hot meal awaiting finishers, this time around, there will be hot chocolate and granola bars. Such is the reality of pandemic restrictions.
"That's still ahead of last year," Baker said.
In 2021, participants managed to top $50,000 in fundraising, despite the remote participation.
This year, taking part virtually is still an option, but for anyone wanting to enjoy the participatory atmosphere of the event, the start/finish area has moved compared to previous years.
It will begin and end at the former St. Agnes School, the future site of Indwell's supportive housing complex for Chatham.
Baker said the route for walkers is still the same, heading to Grand Avenue, then up St. Clair Street, across Oxley Drive and down Sandys Street, for a five-kilometre trek.
Baker said everyone gathers at 4 p.m. to take part.
He said he understands if people would rather walk on their own instead of attending on walk day, given the ongoing pandemic.
"We offer both. We hope to please everyone," he said.
Baker is not surprised the event has continued to grow despite the COVID-19 pandemic. For starters, the pandemic only exacerbated Chatham-Kent's homeless issue. As well, restrictions limited what people could do.
"The thing I really like about it (the event), especially during the pandemic, is walking is one of the few things we can all do," he said. "This gets everyone out of the house after being cooped up, have fun and raise money for a worthy cause."
Funds raised go towards operating the NeighbourLink program locally, providing assistance to those in need. The organization offers free transportation for medical appointments, banking, and groceries.
"Since the pandemic began, we're also heavily into food delivery – for the infirm and those who can't get out," Baker said.
He added January was a "crazy" month for food, as inflation has seriously impacted people on social assistance.
To register visit https://cnoy.org/location/chatham-kent.