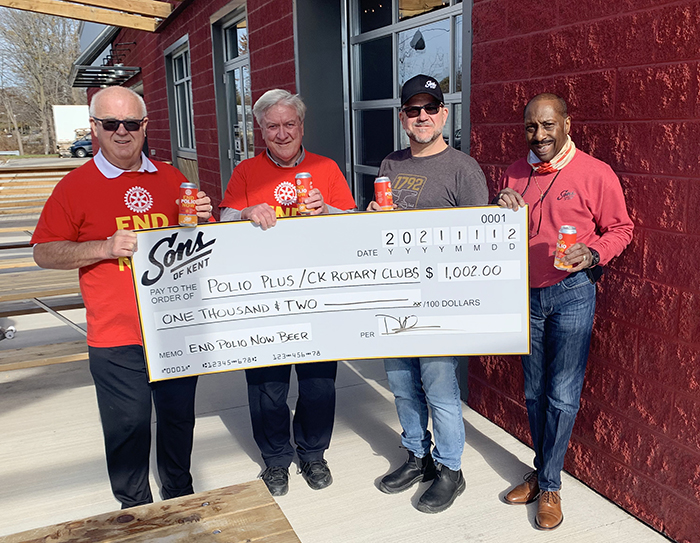 It's been a 36-year battle in faraway places such as Afghanistan, but area Rotarians are confident they are winning.
And the Rotary Polio Plus Campaign recently received a shot in the arm courtesy of the Sons of Kent Brewing Co.
The Chatham-based craft brewery made and sold End Polio Now beer and donated all the proceeds to the Rotary campaign.
In a short time, the beer sales raised more than $1,000 for Rotary.
Dave McGuire, co-chair of Polio Plus Campaign for District 6380, which represents six clubs in Chatham-Kent and 42 in Michigan, said the support is appreciated.
Hunter said brewing to help the Rotary Club is "another charitable thing we do for the community and try to help everyone out. It's not the first one and won't be our last."
He added the brewery plans on doing the beer again next year.
"Tim Copeland has to take all the credit with Sons of Kent. He took the lead on this," Hunter added, referring to one of his business partners.
McGuire said Rotarians have been out to eradicate polio around the globe with Polio Plus since 1985. They're seeing the progress, as Rotary reports have polio reduced by 99.9 per cent since the service organization's first project to combat polio took place back in 1979.
"We're raising money for Polio Plus. We took on this job in 1985. We're down to two cases in 2021," he said. "There is one in Afghanistan and one in Pakistan. We haven't had a new one since January."
With the finish line close, McGuire said eradication is more than just going 365 days without a case, however.
"We have to go three years in the clear before we can certify we're polio free in the countries," he said.
Rotary International's goal is to raise $50 million a year. McGuire said when they reach that mark, the Bill and Melinda Gates Foundation matches the figure. With government support from around the world, the funds add up and the reach gets even wider.
Hunter credits the community for getting behind their fundraising brews over the years, not just the End Polio Now offering. Those include Fingask, a red ale that helps raises funds for the Legion pipes and drum corps, which is back in stock and selling well. Earlier this year, the brewery sold Chatham All Stars Rye Pale Ale to raise awareness to get the 1934 provincial championship team a place in the Canadian Baseball Hall of Fame.
"It's been outstanding," Hunter said of the community support. "We sell out usually in a couple of weeks every time. Everyone that comes in – they might not even know that we have it available, but they'll walk in and grab a six-pack just to support it."