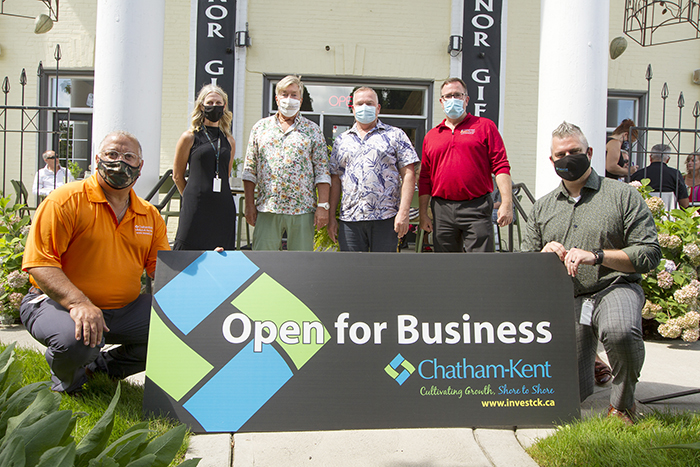 Gentry Manor owners Thomas Smith and James Lizotte are encouraging Chatham-Kent to relax on their new Small Plates patio and enjoy the summer with some new dishes.
With seating for 24 patrons on their front patio, and with unique food offerings by chef Marc King, municipal officials were on hand recently to celebrate the new addition to the business with an official ribbon cutting.
Mayor Darrin Canniff, who was at the ceremony, said he had the honour of being the first patron when Small Plates first opened, and would encourage the community to stop by for a new culinary experience.
"It's a wonderful place," said Canniff.
"If you haven't tried it, you need to," he added.
Expanding to be open five days a week and with a menu that changes every couple of weeks to keep it fresh, Smith and Lizotte said the response from the community has been overwhelmingly positive and supportive since they introduced the new venture to their historic building.
After opening, they accepted walk-ups, but said reservations are now almost necessary.
"We had the opportunity to reinvent the business and we appreciate the support of the community spreading the word. It's been outstanding," said Smith.
While a spa, hair salon, and boutique already call Gentry Manor home, the idea for the patio has been years in the making. It wasn't until the pandemic they were able to put it into action, however.
"With all the time off for COVID, it just really got our brains working, and thinking caps on; we decided to move ahead with it," said Lizotte.
When cold weather and snow hit later this year, they already plan to take Small Plates inside and expand it further so food enthusiasts can enjoy it year round, COVID restrictions permitting.
"We'll be hosting private parties and having an eatery on the second level as well as on the first," said Smith.