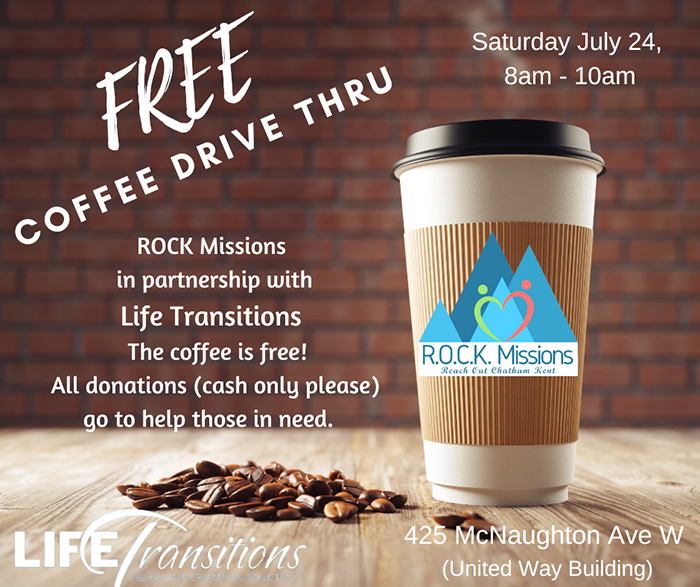 The 425 is hosting a free coffee giveaway on Saturday, with donations going to help R.O.C.K. Missions.
Life Transitions' James and Lee-Ann MacNeil are behind the effort.
James MacNeil told The Chatham Voice his wife saw that July 24 is National Drive-Thru Day, and the couple thought it would be an awesome way to hand out some morning coffee to the public, maintain social distancing, and help R.O.C.K, which aids local homeless.
"The United Way was very kind to let us use their location, as it is a one-way drive around their building," MacNeil said. "We can't really do a drive-thru at our location at the plaza (on the corner of Baldoon Road and McNaughton Avenue)."
MacNeil said it made sense to work with R.O.C.K. Missions after the prevalence of local homeless individuals increased during the pandemic.
"If you grew up here, you didn't see homeless people when you were younger. I didn't see them when we first moved here 18 years ago," he said. "But then we started to see the tents, and now some of the motels are half full with the homeless."
He credited R.O.C.K. volunteers with tackling a very challenging issue.
"It's very complicated. One guy needs a helping hand, another is really deep in a mental health situation," MacNeil said.
He knows handing out free coffee and asking for donations won't solve Chatham-Kent's homeless situation, but it can help, through raising funds and awareness.
"This is a simple act of a citizen saying they can't fix the problem but can alleviate some of the pressure," he said. "If we can help buy more sandwiches or toothbrushes and contributed to the goodness of the community, great."
The giveaway takes place between 8 a.m. and 10 a.m. Saturday at 425 McNaughton Ave. W.