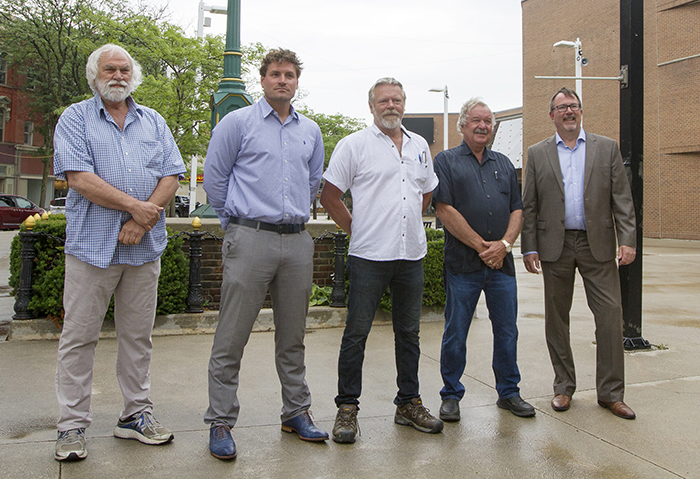 The Downtown Chatham Centre has new ownership and the future is bright thanks to several local investors and developers looking to transform the struggling mall.
RM Sotheby's Rob Myers, Tatro Group of Companies' CEO and Founder Don Tetrault, Retro Suites' owners and operators Pete and Jessica Tsirimbis, general building contractor Ron Nydam, and real estate developer Jim Bullock have all partnered up to revamp the downtown mall.
Purchased for an undisclosed amount, the new owners are seeking input from the Chatham-Kent public on what they would like to see happen.
The journey started two months ago when Tsirimbis (Myer's son-in-law) said Myers sat down at lunch and declared, "We're buying the mall."
"Since we owned next door's Retro Suites, it only made sense to buy this," Myers said.
How the block between can be utilized to benefit the community long term is one of their main goals.
"We want to get it right. For too long, this has been done wrong, we believe. It's time to bring Chatham back. There's a lot of potential here," said Nydam.
Chatham-Kent Mayor Darrin Canniff said he is thrilled to see these locals invest in the community.
"We've got five investors who care about Chatham-Kent. They are going to put their blood, sweat, and tears into this. They want to see it succeed," he said.
Between this project and the recent purchase of the old Navistar property by Myers, Tetrault and Mike Vagi, the mayor sees the news as a turning point – something the community will benefit from for many years to come.
"Overall, I would like to see downtown become an entertainment district. All sorts of things could come out of that. We're seeing a metamorphosis happening right before our eyes," said Canniff of what he sees unfolding.
While in the early stages of planning, all avenues of ideas are being explored, from a new arena to an outdoor farmer's market, similar to the one Chatham once had downtown.
Focused on gathering information and looking at all possibilities, the developers would like to see the future design mimic the downtown's historical architecture.
"Much of the facade will be changed. If we can use some of the great structure inside, fabulous. If not, there is no plan, we're looking forward to making it more appealing and productive," said Tsirimbis of the current mall's exterior.
When asked about a dollar figure for the project, Tsirimbis said at the moment they are unsure of the developing cost.
"It could be $10 million, it could be $70 million. We'll have to see what's in the cards," said Tsirimbis.
In the coming days the municipality will be setting up a spot for community engagement on the Let's Talk CK website at letstalkchatham-kent.ca where the public can share their suggestions.
"This property is quite large, sitting dormant. We need to turn the economy around by making this something great," said Tsirimbis.
"It takes more than one block to fix what is lacking in downtown. The partners are great and we got a good team, good group here," Nydam added.