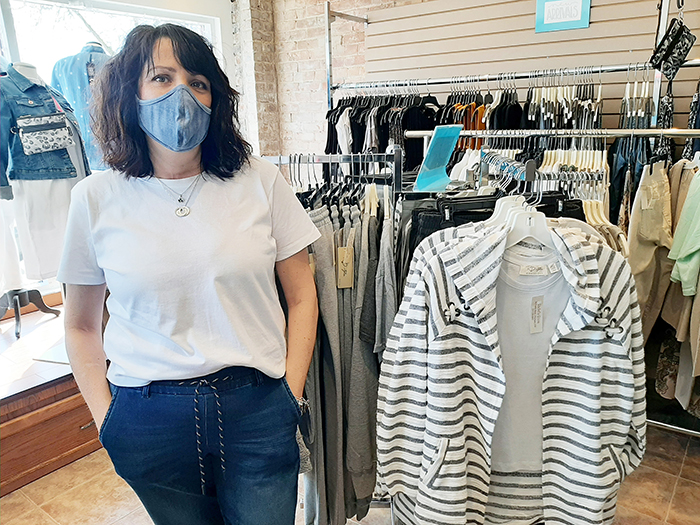 A visit from authorities on Thursday morning quelled a one-person COVID restriction rebellion.
Julie Krieger, owner of Rachel's Room in downtown Chatham, very publicly vowed to keep her doors open, despite the lockdown and stay-at-home orders from the province. She thought that by letting just one customer in at a time and sanitizing afterwards, she offered a safer environment than any big-box store could.
The difference is authorities view big-box stores as essential, and Krieger's small-business ladies wear store as not-so essential.
"They came in this morning," she said of the visit from municipal staff on April 15. "If I had anyone in the store, they'd fine me. I asked what the fine would be and they said it starts at $880 and goes up to $100,000."
It was that top-end number that scared Krieger.
"If it was going to be $800, I probably would start over again tomorrow," she said of opening her doors to her Fourth Street business. "But it's a fight I just can't win right now. I'm only one person. It would have been different if everyone downtown was open at the same time."
According to municipal officials, they have issued one fine for a gathering during the current lock down, have inspected 35 business and issued seven educational warnings, as of late last week.
While other businesses may not have followed Krieger's lead, she said the feedback she received online and in person from the public has been rewarding.
"Business has been really good. People heard I was open and they made a point of coming in and supporting," she said. "It has been very interesting in that way. People had been coming in and buying."
Krieger believes small businesses are being robbed of their competitive advantage by the pandemic restrictions. The face-to-face customer service is tossed into the trash bin along with used paper masks and other discarded personal protective equipment.
"I have a lot of relationships with 90 per cent of the people who come in here," she said. "They know they are going to get a smile. The human interaction is part of what they want. It's a scary time we are living in right now. But as a little person (small business owner), we just don't have enough clout, sadly."
Krieger doesn't understand why the provincial government is targeting small businesses so harshly.
"Small businesses aren't the problem. Hairdressers aren't the problem. We're not the cause. We have a lot of control over who comes in," she said. "Big business really doesn't."
Krieger said Red Zone restrictions were manageable, as she limited how many people could come into her store each time. Those who shopped usually did so with a purpose; there were few browsers.
"Ninety-five per cent of people who walked in here left with something in their hands. Those are pretty good odds," she said.
But the provincial "emergency brake" soon followed, along with the stay-at-home order.
"It seems the momentum just gets going and, boom, we're shut down again," Krieger said. "But these are the rules I have to live by for the next few weeks at least."
Municipal officials said they are also aware of a planned event later this month encouraging local businesses to open their doors in defiance of provincial orders.
"The Chatham-Kent Police Service, Public Health Unit and bylaw enforcement are actively monitoring this event as it unfolds and will conduct inspections of the businesses associated with the event and charges will be laid, if warranted," officials said in a media release.
Officials said the COVID snitch line is still open. To report a concern, individuals can call 519-360-1998, 24 hours a day, seven days a week, or e-mail Covid19enforcement@chatham-kent.ca.