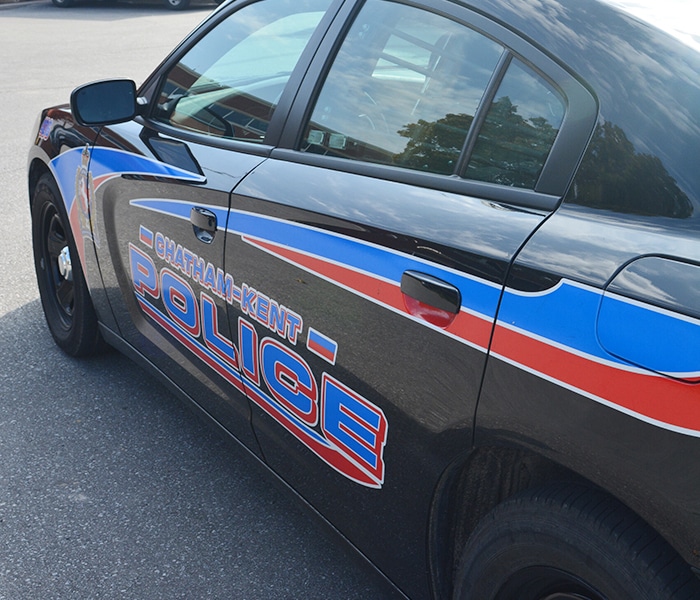 Assault with a weapon
Chatham-Kent police were dispatched to a disturbance on James Street in Wallaceburg Saturday after a man bashed another with a pipe.
Police say two males were involved in an altercation when at one point one of them retrieved a pipe and struck the second male with it.
The victim was treated and released from the hospital with non-life threatening injuries.
The suspect was known to the victim and fled prior to police arriving. This investigation is ongoing and a warrant being requested for the suspect.
Anyone with information is asked to contact Const. Max Bossence at maxb@chatham-kent.ca or 519-436-6600 ext. 8107346. Anonymous callers may call Crime Stoppers at 1-800-222-TIPS (8477) and may be eligible for a cash reward.
Dogged determination
It took a police dog, but officers got their man.
In the early morning hours Sunday, police got the call of a suspicious vehicle in the Queens Line area.
The vehicle was located abandoned on the side of the road. The vehicle was reported as being stolen.
A perimeter was set up and the K-9 unit contacted. A male was found hiding in a building in the area and placed under arrest.
Through investigation, the male was charged with break and enter with intent, possession of stolen property over $5,000, possession of break-and-enter instruments, and breach of probation.
He was held for bail.
Bail violations
A vehicle stop was initiated on Prince Albert Road in the Municipality of Chatham-Kent on Saturday.
The passenger was currently on two separate releases not to be with the driver of the vehicle, police say.
The man was arrested and charged for two counts of breach of release.
Warrants
Over the past 24 hours 5 individuals were arrested on outstanding bench warrants. All parties were released with future court dates.
Comments
comments