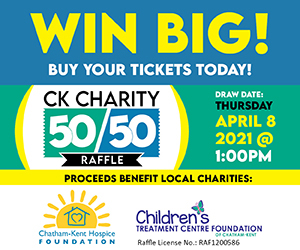 Sales are brisk as the Chatham-Kent Hospice/Children's Treatment Centre's 50/50 fundraiser heads into its final week.
As of Monday morning, the prize was up to nearly $26,000. A handful of days earlier, the prize pot was at $22,000.
"Our sales have been steady," Jodi Maroney, executive director of the hospice foundation, said. "We're hoping as we get closer to the draw date that people who may have been holding off buying a ticket will do so. The sooner people buy, the sooner (the prize) will grow."
Maroney said the draw is open to all residents of Ontario. The only stipulation is that they have to be in the province on the date of the draw.
Teaming up with the Children's Treatment Centre for a 50/50 draw was a different fundraising move for the hospice, done in a different year – in the middle of the COVID-19 pandemic.
"With the pandemic, we were impacted. We didn't know what that impact was going to be. We felt this was the year to try something new," she said. "We also thought that it was a great opportunity to do a partnership."
Joining forces with another charity is a first for the hospice, and they have no regrets, Maroney said,
"It's been a great experience. We know all charities have been impacted by the pandemic. We encourage other charities to look at such opportunities. It strengthens the community," she said. "With the Children's Treatment Centre, they help a younger end of the population. With us, it's typically at the other end."
The hospice provides end-of-life care for local residents, and support for family members.
As for the raffle, tickets remain on sale until April 8, the date of the draw. Maroney said there are numerous different price points, starting at $10 (10 tickets) and going up to $50 (200 tickets).
For more information or to purchase tickets, visit ckcharity5050.com.